PM: Interdistrict travel, religious and outdoor sports activities allowed for fully vaccinated people from August 10
Prime Minister Muhyiddin Yassin announced the easing of restrictions for fully vaccinated people in Malaysia. Beginning August 10, those fully vaccinated will be able to travel between districts, attending religious activities and outdoor sports. There is more freedom for states that have moved to at least phase 2 of the national recovery plan (PRN).
Definition of fully vaccinated
For those who have received two-dose vaccines such as AstraZeneca, Sinovac or Pfizer, an individual is not considered to be fully vaccinated. 14 days after receiving their second dose. Meanwhile, for single injection vaccines such as CanSino and Johnson & Johnson, an individual is not considered to be fully vaccinated. 28 days after receiving their vaccine.
Individuals must show their digital vaccination certificate as proof of completed vaccination. This can be found in the MySejahtera app under the My Profile page.
Reduced restrictions for fully vaccinated
The Prime Minister announced that Malaysians and fully vaccinated permanent residents (including residents under MM2H) will have the opportunity to quarantine themselves at home after returning from abroad. Currently, all inbound travelers are required to undergo quarantine at designated hotels or quarantine centers.
Fully vaccinated long-distance couples will be allowed to cross state and district borders to visit each other. During this time, fully immunized parents are also allowed to travel between states and districts to visit their children (under the age of 18).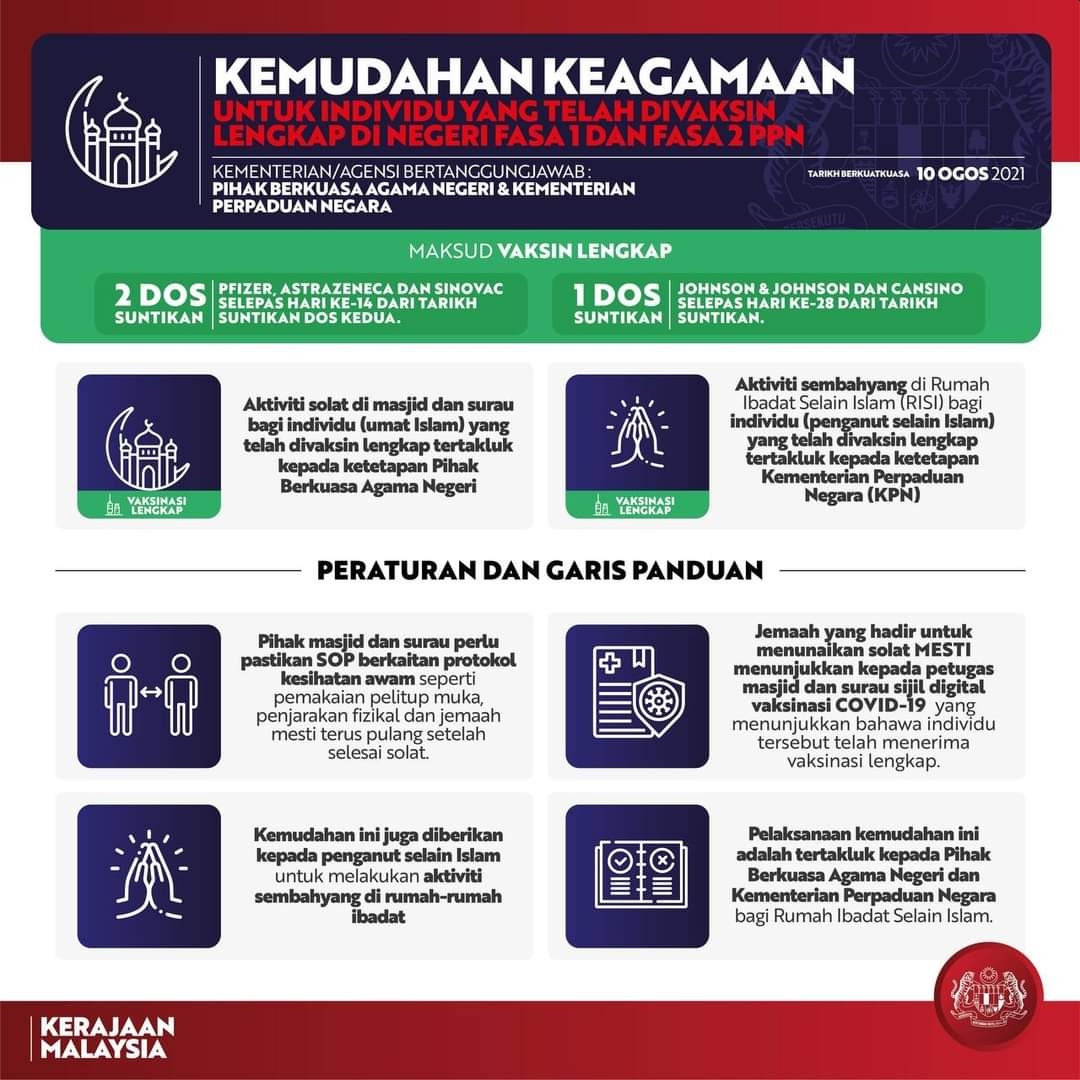 Religious activities at the mosque and surah as well as other places of worship are also allowed for people who have been fully vaccinated.
POS relaxation for PNR phase 2 and above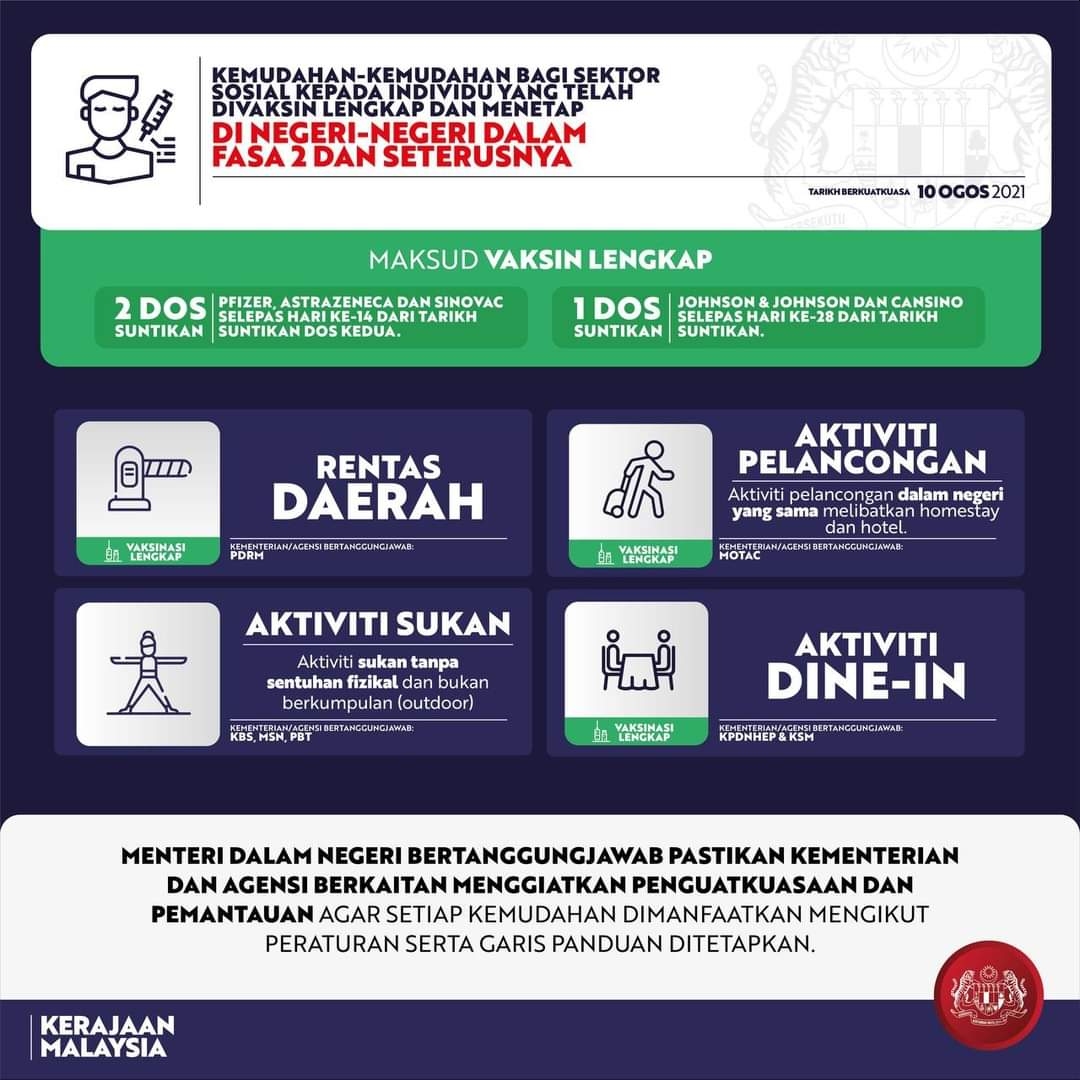 For states under PNR Phase 2 and beyond, restaurants and food operators are permitted to accept dining room customers. In addition to those fully vaccinated, children will also be allowed to eat dinner.
Restaurants and eateries are urged to ensure sufficient space between tables for social distancing and they are also urged to improve air circulation in their premises. Under the new SOP, all restaurant customers must present their MySejahtera digital vaccine certificate before entering.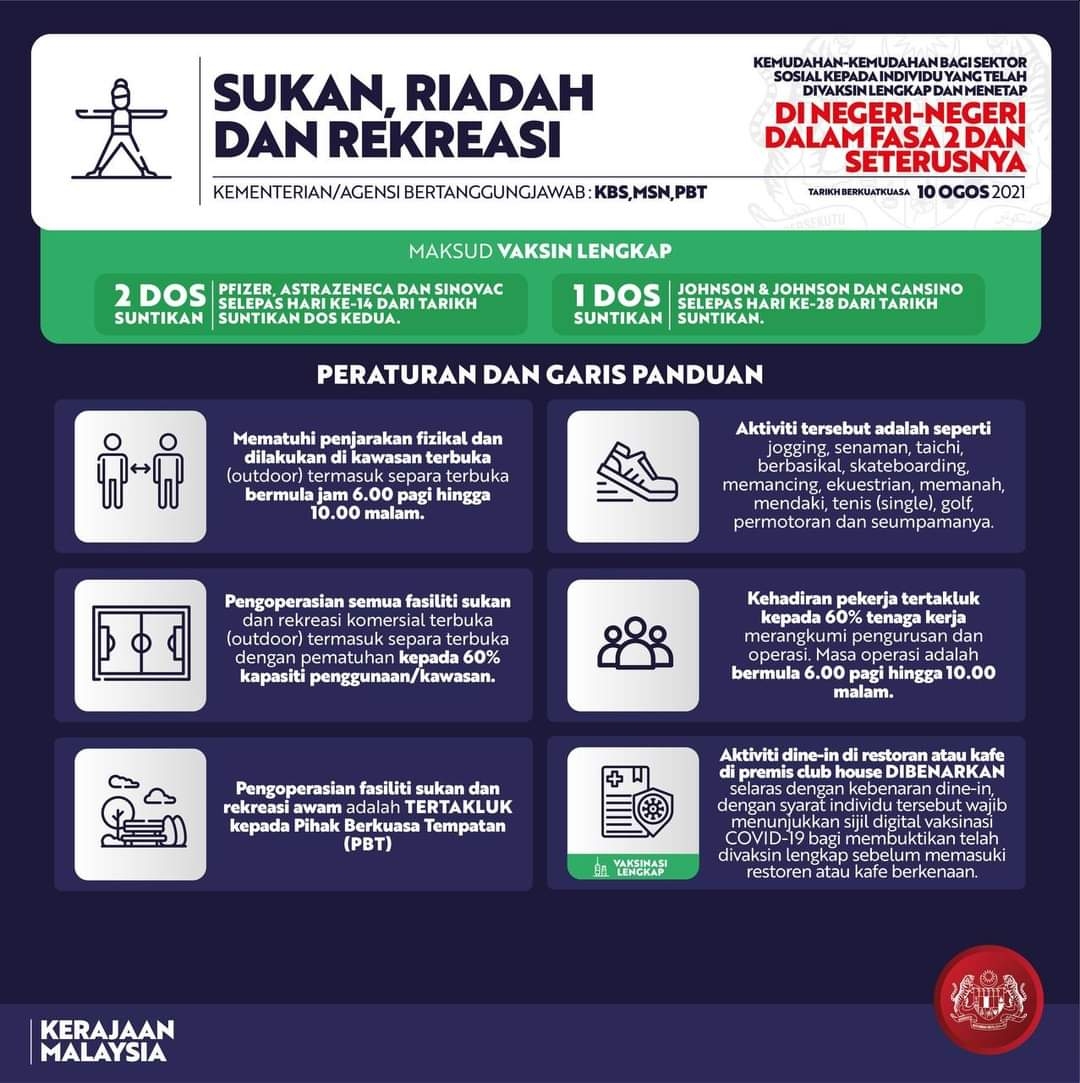 The Prime Minister also revealed that several outdoor activities will be allowed for those fully vaccinated. This includes jogging, taichi, cycling, skateboarding, fishing, horseback riding, archery, tennis, badminton, motoring, and more.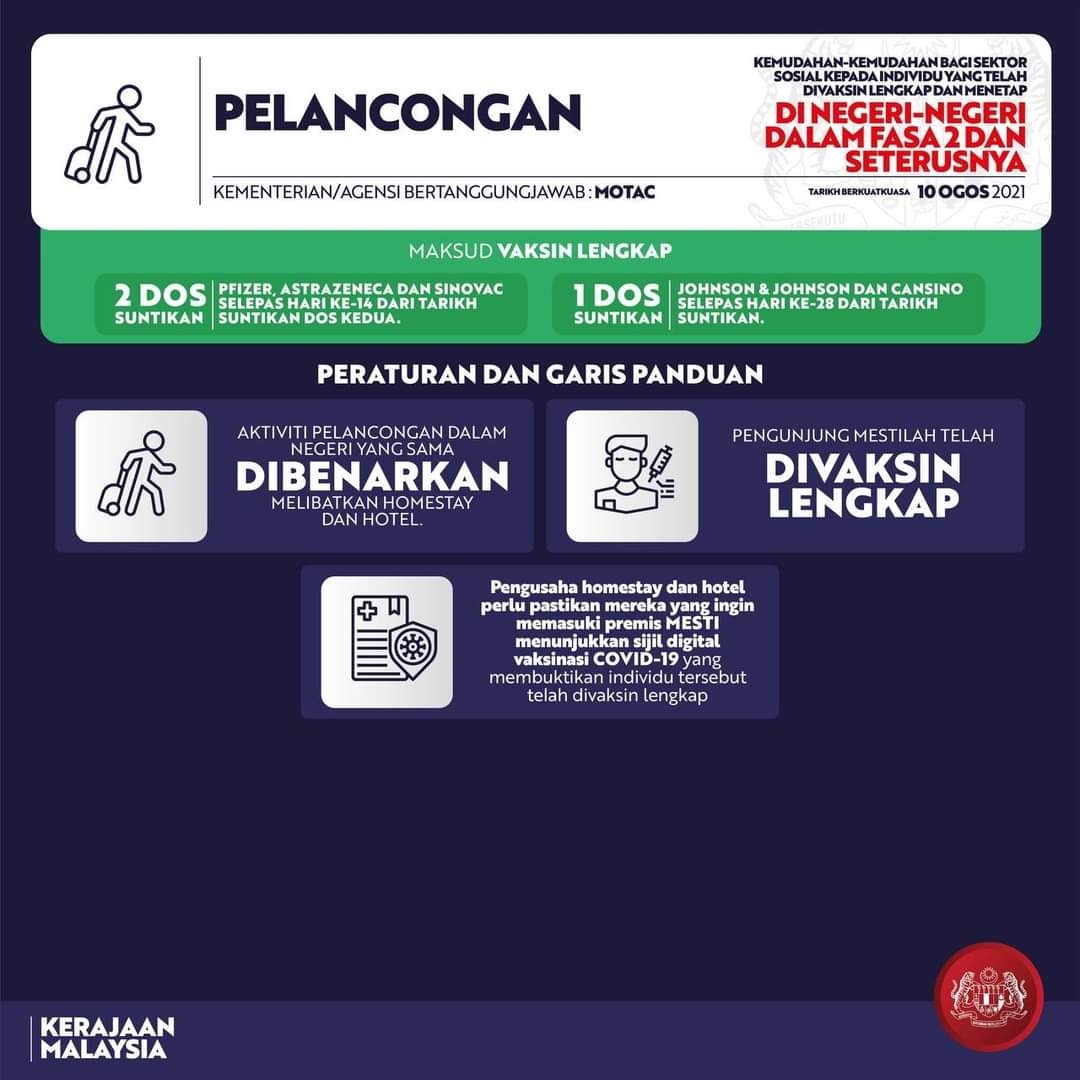 Same-state tourism is also permitted for states under PNR Phase 2 and beyond. All operators, including host family owners, must also verify the digital vaccination certificate before allowing their customers or guests to enter.
Muhyiddin added that full details of the relaxed restrictions, including new economic sectors allowed, will be revealed by the National Security Council.
Which states are in phase 2 and above?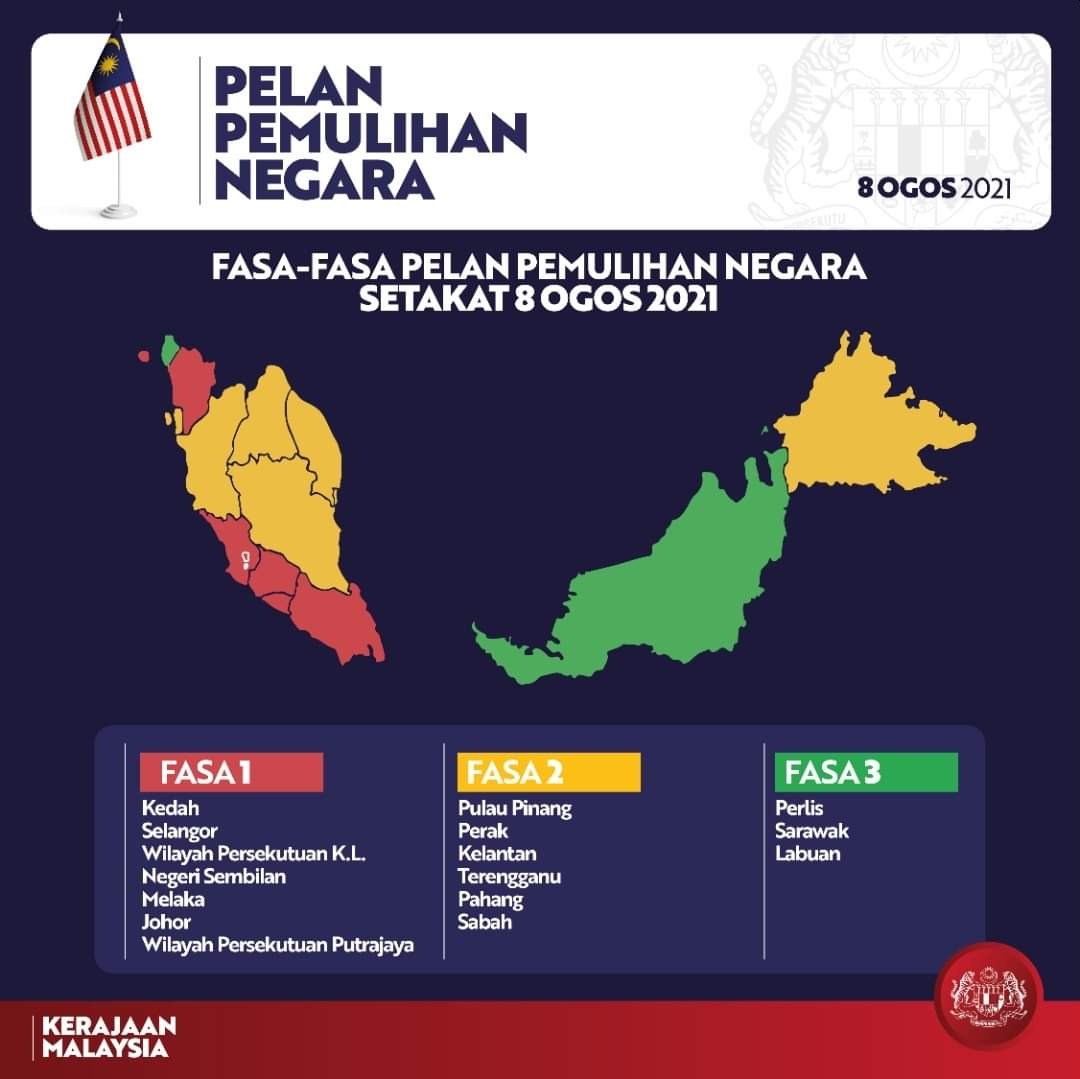 At present, states under Phase 2 include Kelantan, Terengganu, Pahang, Perak, Penang, and Sabah. Phase 3 states include Perlis, Labuan, and Sarawak. The states and territories of Kedah, Selangor, Negeri Sembilan, Melaka, Johor, Kuala Lumpur and Putrajaya are still under Phase 1.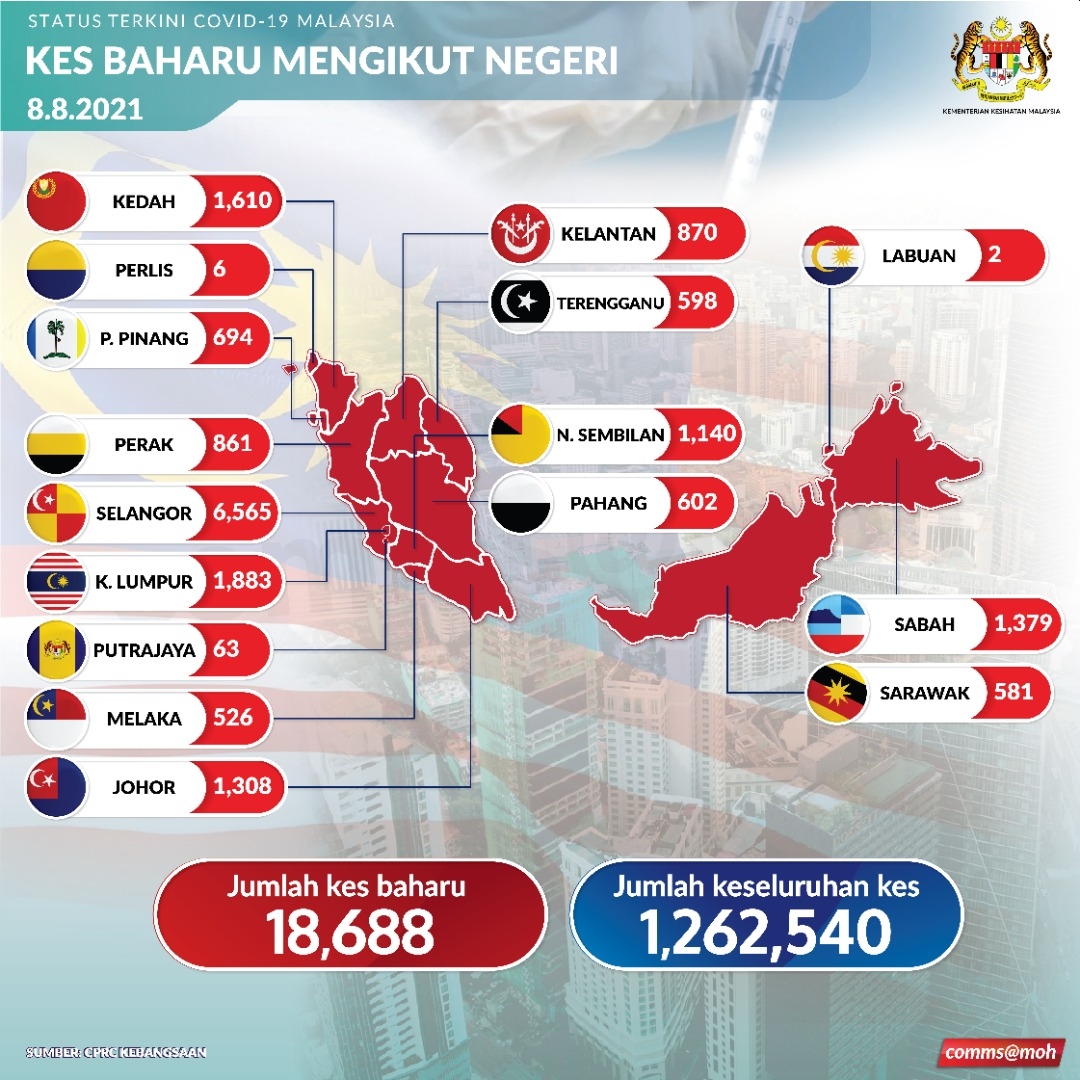 Today Malaysia has registered 18,688 new cases of COVID-19, bringing the total number of infections to 1,262,540. While the total number of new cases shows a downward trend, several phase 2 states such as Sabah and Kelantan have reported more than 800 new cases today. On top of that, both states have less than 20% of their population fully immunized.
Over 25% of the Malaysian population has been vaccinated with two doses
As of August 7, Malaysia has administered more than 24 million doses of the vaccine. 15,536,215 individuals (over 47% of the population) received at least one dose while 8,497,773 individuals (over 25% of the population) completed their vaccination with two doses. Malaysia aims to fully immunize 50% of its adult population by August 31, 2021.
[ SOURCE, IMAGE SOURCE ]