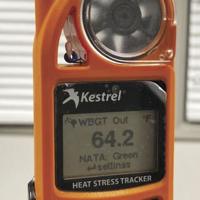 New device will determine when outdoor sports can compete | Sports
A new device will be a deciding factor in when it's safe or not to participate in outdoor sports this fall.
West Point-Beemer and Guardian Angels Central Catholic were among Nebraska high schools that recently received a wet globe thermometer as part of the NSAA's heat modification guidelines.
According to the NSAA board document, it states:
"We have approved the Wet Globe Thermometer (WBGT) as a recommended measurement practice and device for measuring acceptable heat and humidity levels for training and competition. Use of the WBGT is recommended throughout the calendar year when the ambient temperature is above 80 degrees.
"It's not a requirement, but we've taken the position that we're going to follow the guidelines," West Point-Beemer athletic director Jacob Hohenthaner said.
Hohenthaner added that by not following him, the blame for any heat-related illnesses would fall on the school.
On the NSAA instruction sheet, it also says:
"The WBGT is a comprehensive measure of heat stress in direct sunlight, which takes into account ambient temperature, humidity, sun angle, wind speed and cloud cover."
There are five levels of heat: green, yellow, orange, red and black. There are recommendations for each color. Tests are performed by the WBGT device to determine what level they are at.
When levels reach black, there are no outdoor activities. Practices and/or matches must be canceled or delayed.
"It's interesting. It changes what you can and can't do. I told my coaches, 'if you see a day where it's going to be hot and humid, you have to think about adjusting.' If it's dark and you can't practice outside for a game week, that's a big deal," Hohenthaner said.
As of now, Hohenthaner does not plan to cancel any matches. In most situations, they would delay games until levels reached a playable level. And, of course, additional water and rest breaks would be given.
However, there are still a lot of unknowns, Hohenthaner admitted.
"It's new to us, and it's new to them. [the NSAA] too," Hohenthaner said.
Guardian Angels Central Catholic sports director Josh Batenhorst said the school is familiarizing itself with the whole guidelines process.
"I am all for student safety. I think it's a good thing what they're doing," Batenhorst said.
That being said, Batenhorst noted that there are a lot of unanswered questions schools need to navigate.
"It could create awkward situations in the future," Batenhorst said.
Events such as the state track have the potential for hot days. In addition, summer activities with various camps. The first football matches of the season are another example of activity that could be affected.
While these guidelines apply to all outdoor sports, Hohenthaner said the focus is on football because helmets and pads add extra warmth to the athlete.
Hohenthaner said that according to NSAA executive director Jay Bellar, 14 high school students in the United States died due to heat-related issues last season. Nine of them were in football.
Hohenthaner and Batenhorst learn even more about the process. And while these guidelines present some challenges, both agree it's a good step for student-athlete safety.
"It is definitely a game-changer. It's not just heat. It's a huge equation that comes into play," Hohenthaner said. "It's interesting when you start looking at it."