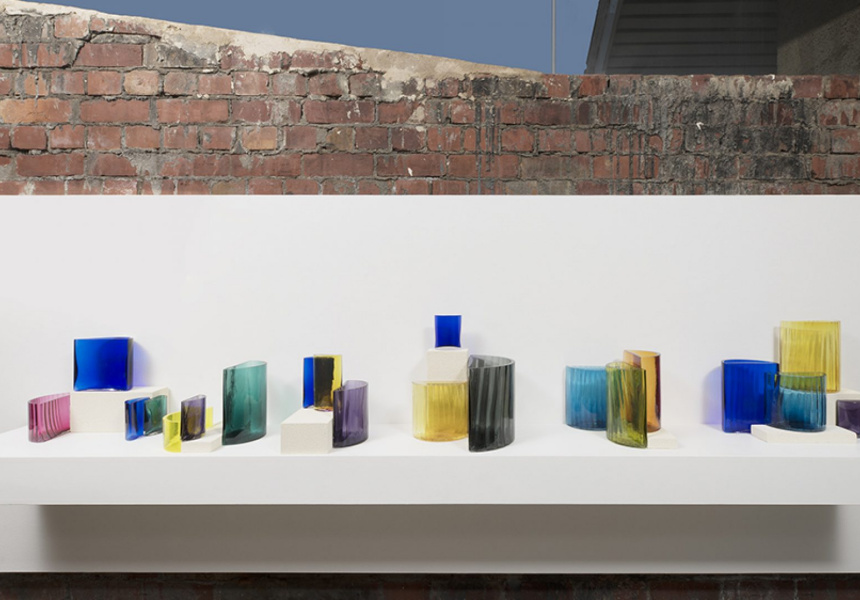 Melbourne Design Week's Top Picks
"It's more of an idea-driven design week than a trade fair," says Simone LeAmon, Curator of Contemporary Design and Architecture at NGV. "We try to provoke the design community to respond to a theme."
LeAmon talks about Melbourne Design Week, a Victorian Government initiative launched by the National Gallery of Victoria, which runs from March 17-27 this year. This year's theme called on designers to "design the world you want".
Encompassing a range of exhibitions, talks, workshops and more across the city and in parts of Greater Victoria (including Castlemaine, Ballarat and East Gippsland), program highlights range from the vast Melbourne Art Book Fair to bustling hubs such as MPavilion and the RMIT Design Hub, to smaller, more intimate events at venues such as Spotswood's Scienceworks.
We asked LeAmon to share his top five picks for this year's forward-looking iteration.
Melbourne Design Fair
"It's a great commercial showcase of limited-edition, rare and unique contemporary collectible design," LeAmon said of the week's centerpiece show. Spanning five days at Warehouse 16 in Abbotsford, this groundbreaking event showcases over 100 Australian designers and manufacturers, with all exhibits available for sale.
"It's about encouraging and supporting a market for contemporary, idea-driven design that could spark conversations about materials," says LeAmon, "but also celebrate what we call the daily rituals of life. So it's all work that's rooted in function, and all work you can live with. Presented in conjunction with the Melbourne Art Foundation, the fair is open to the public for three days, Friday to Sunday, the 16th and March 17 being reserved for the industry.
Victorian Premier's Design Awards Showcase
The state's preeminent design awards recognize excellence in product design, furniture design, interior design and more. This exhibition celebrates 25 years of the awards, showcasing outstanding works from their history and exploring their impact both locally and globally. Presented by Creative Victoria at the RMIT Design Hub, the free 10-day event is hosted by designer and speaker Ian Wong.
"It's about bringing together case studies of projects that have won the award, but with a focus on their impact and legacy [since]says LeAmon. "These are all design projects that have truly enriched, enabled or transformed the lives of many people." During your stay at the RMIT Design Hub, also discover the exhibition of the group Friends & Associates self-portraitamong other Design Week exhibitions.
Victorian Premier's Design Awards Showcase
Beyond Earth Design Series
Scienceworks in the Midwest debuts as a Design Week participant with a three-day series of free and paid planetarium talks, events and shows. "It's really about looking at the design for life beyond Earth," says LeAmon. "They've brought together an amazing group of speakers to talk about everything from designing and building habitable spaces on the moon or Mars, to examining a lot of science that has yet to come to fruition."
The series will explore how design, engineering and architecture for space can improve life on Earth, and includes insight into NASA's pioneering design and test process. Presented in collaboration with Hassell Studio on Friday, March 25, the opening night experience includes after-hours access to a forward-looking exhibition think ahead.
Designing the future of hospitality
Design principles guide everything we use every day, including cafes and bars. This panel of leading figures in the hotel industry, chaired by Artichoke The magazine's Cassie Hansen will focus on the relationship between art and function, and how great design can foster an immersive dining experience. Hear from the ubiquitous design team Russell & George, chef and co-owner Adam D'Sylva of Tonka and Coda, and the creative minds of branding agency Studio Ongarato and James Richardson Furniture.
"It examines how essential design in Melbourne has been in delivering the hospitality experience we all love," says LeAmon. Held at Space & Time in North Melbourne on Wednesday March 23, the hour-long discussion is free, but booking is required.
Designing the future of hospitality
Recultivate
Outdoor furniture specialist Tait Furniture, which has a popular flagship store on Smith Street, presents this look at the integration of design and indigenous ecology. Presented in partnership with Victorian Indigenous Nurseries Co-Operative (VINC), Recultivate will share ideas on preserving indigenous ecological sites through "biophile" design practices. It is also the launch of a new Tait range reflecting this same approach.
"Tait has collaborated with Adam Goodrum, one of Australia's leading industrial designers, on a range that deals with the growth of native grasses," explains LaAmon. "They're launching this new collection and doing a great installation at Collingwood Yards." A free 11-day outdoor event, Recultivate does not require reservations. Customers are also encouraged to bring headphones for an enhanced digital experience.
Broadsheet is a proud media partner of NGV.