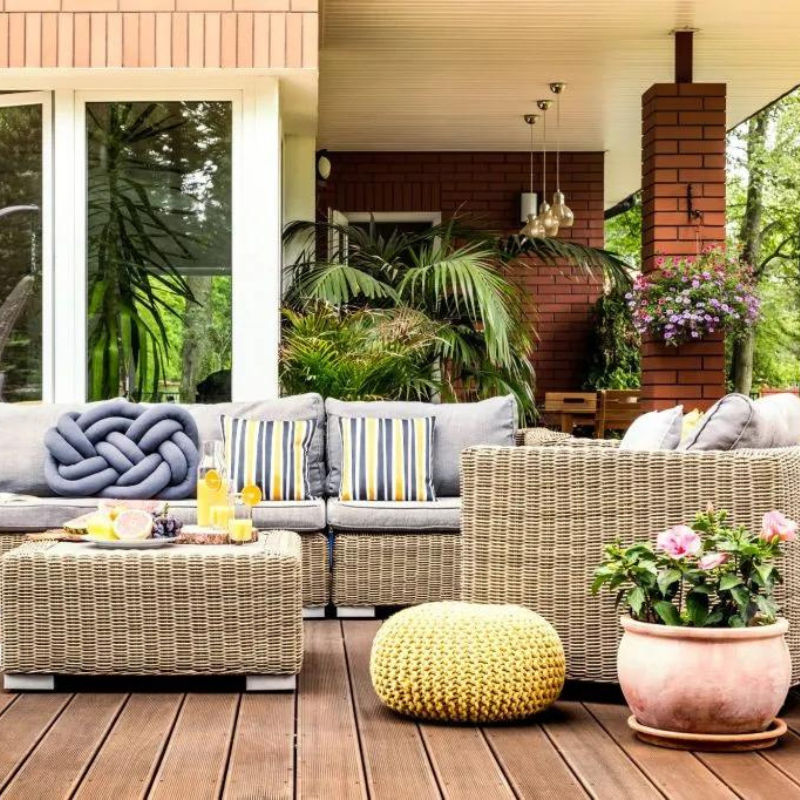 How to clean and maintain outdoor furniture all year round
Indulging in the beauty of the outdoors is made easy with a relaxing setup in your backyard. Just sitting on your outdoor furniture can help you savor all that nature has to offer, that is if you take care of it. Although outdoor furniture is designed to withstand the elements, it is still not resistant to dust, dirt, mold, animals and insects. Also, as harsh conditions set in, especially in winter, you will need to tend to your parts to ensure they remain in their best condition.
"Some people are lucky enough to use their outdoor furniture all year round, and it's a nice refresher before the onset of late fall and winter," says Mark Feldman, general manager of the online decoration market. Riverbend House. "For others, you'll be storing your furniture later in the year, and a thorough cleaning will help keep your furniture looking new season after season."
Routine cleaning and touch-ups
General cleaning best practices for outdoor furniture start with sweeping. We recommend cleaning surfaces as needed using a soft bristle brush and rinsing with water. From there, wash the surface using this method:
Mix 1/4 cup mild dish soap, such as Ivory, and 1 gallon of warm water.
Use a sponge or a soft-bristled brush to scrub the surface of the furniture well.
Rinse, then dry with a lint-free cloth.
Pro Tip: Do not pressure wash or use chlorine bleach, pine oil or abrasive cleaners unless otherwise specified. Test new solutions on a hidden area.
If you notice mold, follow the practice above. Continue by scrubbing or sanding lightly to remove mildew. Wear gloves and discard used supplies to avoid spreading spores.
How to Deep Clean Every Type of Outdoor Furniture
Feldman recommends deep cleaning your patio furniture at least twice a year: once in the spring before you start using it regularly when temperatures rise, and again in the fall before putting it away for the winter. "With proper care and maintenance, your furniture should provide you with many years of comfort and enjoyment in your outdoor living spaces," he says.
Wicker furniture
This soft weave used to make furniture is traditionally constructed from rattan, split reed or coated paper, and is sometimes reinforced with metal. Coats of clear varnish, paint, or a combination of the two are often applied to protect the surface. Sunlight is the main enemy of wicker. Always cover wicker furniture if you intend to leave it outside for more than two or three weeks.
To remove dirt and debris, vacuum with a dusting brush or use a dry brush. Clean with a mild soapy solution. Scrub and rinse. Avoid using too much water, which can weaken the fibers. Dry as described.
wooden furniture
Most woods used for outdoor furniture are naturally resistant to rot and the elements. Although sealants help preserve color and protect against wear, they are not necessary. Left raw, the wood acquires a silvery gray patina and requires little maintenance.
To remove stains or mildew, mix 1 gallon of warm water with powdered bleach according to directions. Scrub the area with a soft bristled brush and rinse. To remove rust spots or bird droppings, or to restore the original color, sand lightly in the direction of the grain using fine grit sandpaper and rinse. If the area is too large to sand, mix warm water with oxalic acid crystals (also called bleach or wood brightener) according to the directions. Apply with a soft bristled brush and rinse. Do not use chlorine bleach, which can damage the wood fibers.
Metal furniture
Aluminum, iron, steel, and other metals can be forged (heated and hammered), cast from molds (often into solid pieces), or shaped into hollow tubes. Since most of them, with the exception of aluminum, are prone to rust, metal furniture is usually covered with coats of clear varnish, paint or a durable powder coating.
Use a mild soap solution and scrub, rinse and dry as described. To remove rust spots or mold, lightly sand the area with fine-grit sandpaper. Wipe it off and apply touch-up paint if needed (available from the manufacturer) in several thin coats. Allow to dry between coats. Humidity can affect the paint, so it's best to work in dry weather.
Fabric covered furniture
The material for outdoor use, often referred to as performance fabric, is designed to resist sun damage, stains, moisture and mildew. Solution-dyed fabric, woven with pigment-infused fibers, is less prone to fading and can withstand harsher cleaners than printed or piece-dyed fabrics. To determine which one you have, check both sides of the fabric. If they're the same, it's probably solution dyed. Otherwise, it is printed or piece dyed.
Removable covers can sometimes be machine washed in cold water with a mild, bleach-free laundry soap, then air dried. To hand wash, immerse fabric in a solution of 1/4 cup mild liquid soap, such as Ivory, and 1 gallon of warm water (do not exceed 100 degrees Fahrenheit or 38 degrees Celsius), agitating gently. Rinse and air dry.
To clean mildew from solution-dyed fabrics, mix 1 gallon of warm water with 2 tablespoons of oxygen bleach if the care guide lists it as an approved cleaning agent. Wet the affected area and scrub with a soft bristled brush. Rinse and air dry.
plastic furniture
Resin or all-weather furniture is usually made from plastic, either polyvinyl chloride (PVC) or polyethylene (PE). These plastics are made with a number of chemical additives, including ultraviolet stabilizers and fungicides, and can be shaped to mimic wood, wicker, and items such as woven chair straps and slings.
Use a mild soap solution and scrub, rinse and dry as described. For stubborn stains or mildew, try a solution of 10 parts water to 1 part bleach if the care guide lists bleach as an approved cleaning agent.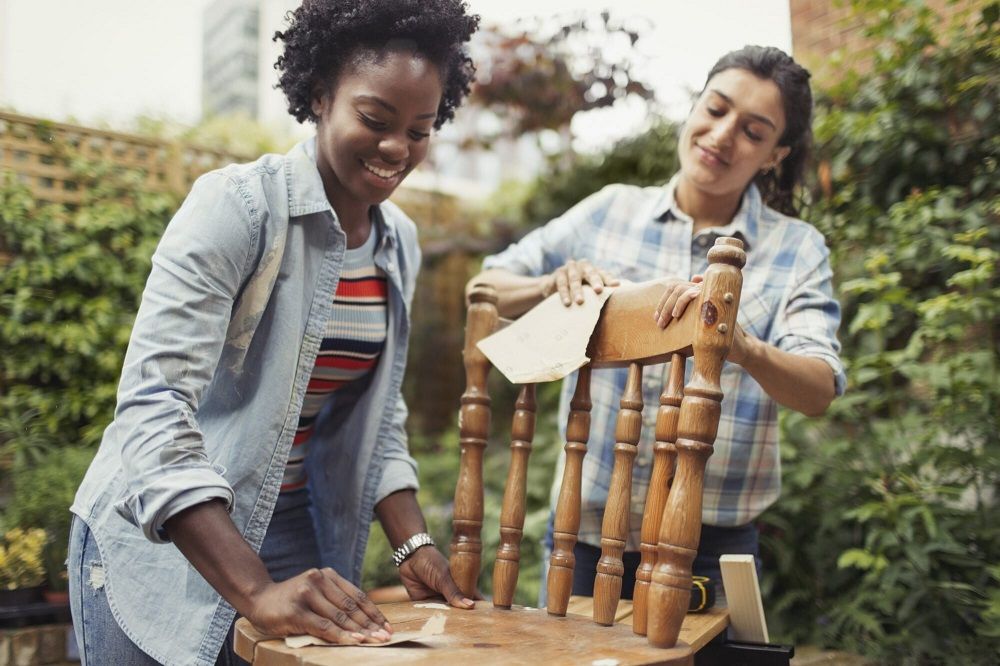 Maintenance
After a few seasons on the porch, your furniture may start to show its age with rust marks, mold, or stains. These general care tips will ensure your chairs, tables and cushions look great for years to come.
Wicker furniture
Regular cleaning is recommended for wicker, as it generally does not withstand harsh or abrasive treatments. It also minimizes mold buildup. Sand lightly with fine grit sandpaper to remove any loose paint and touch up with paint if necessary.
wooden furniture
To protect against UV rays, dirt and moisture, or to preserve restored color, seal the wood. First, clean the surfaces and sand down any existing finishes. Touch up with paint if necessary. Apply a clear water-repellent preservative, which contains mold repellent, or a penetrating semi-transparent stain. (The pigment in the stain helps minimize sun damage.) Check the manufacturer's instructions for how often to reapply; in general, you will need to do this every one to three years.
Metal furniture
After cleaning, apply a coat of quality liquid or paste automotive wax with a lint-free cloth if recommended by the furniture manufacturer. Use a silicone spray to lubricate chair swivels and runners, and umbrella ribs and poles. Regularly inspect for rust or chips, especially in hidden areas where the surface may be unfinished (even stainless steel can corrode in saline environments).
Fabric covered furniture
Regularly brush off dirt and debris and rinse as needed. Wipe up spills and stains immediately with a damp cloth and mild soap solution, as some liquids, such as sunscreen, can cause discoloration. Some fabrics have a water-repellent finish (see care guide) which loses its effectiveness over time. To restore repellency, clean and dry the material, then apply a fabric protectant, such as 303 High Tech Fabric Guard (not suitable for vinyl or plastics). Allow to dry between coats. Repeat once a year or whenever water stops beading on the surface.
plastic furniture
Sunscreen residue can discolor some plastics, so wipe down furniture with a damp cloth and mild soap solution soon after exposure.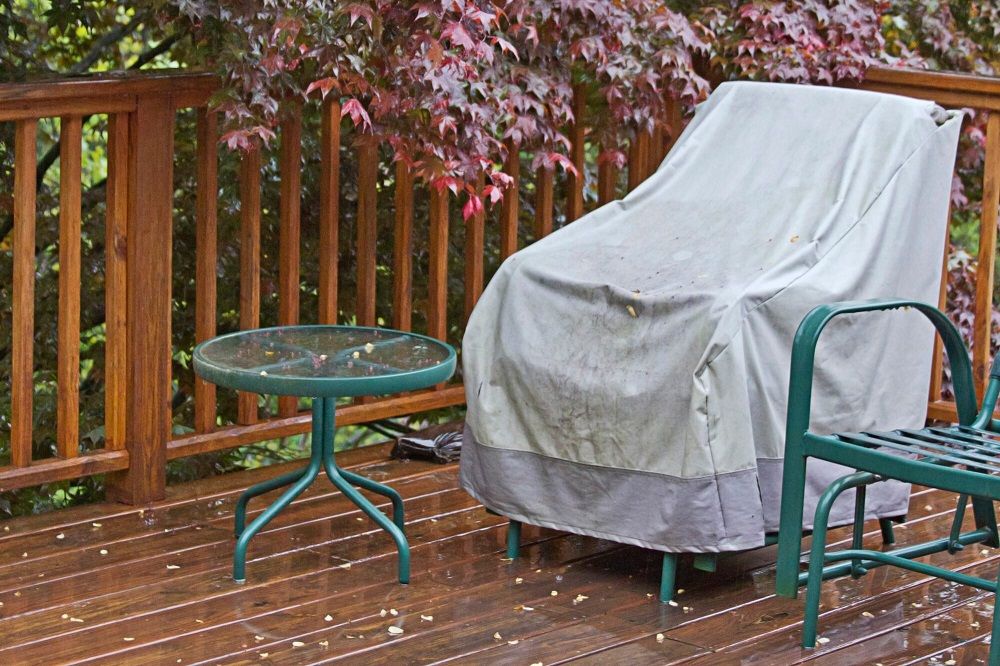 Storage
No matter what type of outdoor furniture you have, we recommend covering items when not in use or storing them indoors. Remove leg covers from chairs and tables and hold furniture upright to allow accumulated water to drain.
You can go further in storage, depending on the season or conditions. In addition to placing slipcovers on furniture after the fall to protect it from winter weather, move all cushions to indoor settings like a garage, storage unit or shed, suggests Feldman. "If you do, you want to be sure to store your cushions in a tightly sealed cloth bag or airtight container," he says. Between other seasons, use a dehumidifier in the storage space to prevent mildew.
This story first appeared on www.marthastewart.com
(Hero and featured image credit: GETTY IMAGES)
© 2021 Meredith Corporation. All rights reserved. Licensed by MarthaStewart.com and published with permission by Meredith Corporation. Reproduction in any manner in any language, in whole or in part, without prior written permission is prohibited.