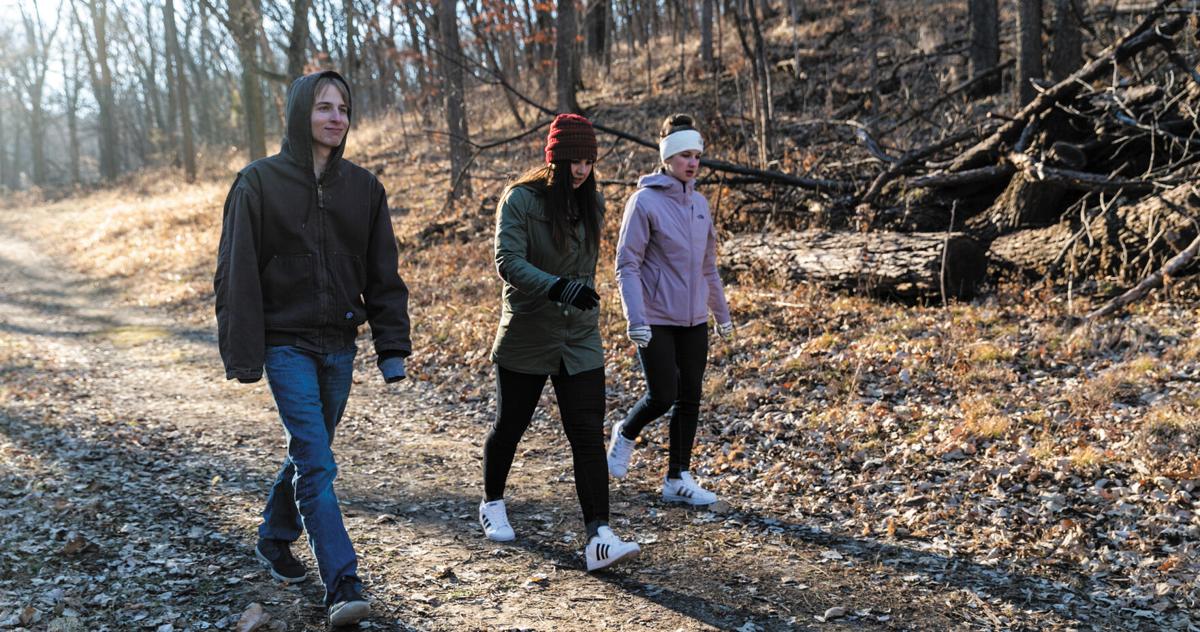 Geiser: Day One State Park Hikes Return | outdoor sports
By Julie Geiser, outdoor columnist

Start the new year off right with an outdoor adventure. Day one hikes are scheduled for Saturday at more than a dozen beautiful state parks, but you can also design your own adventure in a Nebraska park.
Nebraska's annual First Day Hikes are a great opportunity to get out and explore trails, view wildlife, take photos, and create many lasting memories. The Nebraska Game and Parks Commission encourages families to participate in fun and educational programs at select parks as well as hikes at a Nebraska State Park, State Historic Park, or State Recreation Area.
Take your own hike in one of Nebraska's 76 state parks, state historic parks, and state recreation areas, which offer a variety of opportunities for hiking, biking, and walking. Find a park to explore at outdoornebraska.org/parks or a hiking trail at outdoornebraska.org/hikingtrails.
Buffalo Bill Ranch SHP Hike
A half-mile guided hike is at 1 p.m. at Buffalo Bill Ranch State Historic Park in Duck Pond behind the Cody Mansion. Bring a water bottle, snacks, camera, binoculars, and weather-appropriate attire.
During the hike, a park naturalist will help you search and identify tracks, trees, and birds. Then watch the bison and learn the difference between horns and antlers, see skulls and furs and much more.
If you're traveling across the state on New Year's Day, be sure to visit a new park for an adventure. Other hikes planned at: Calamus SRA, Chadron SP, Fort Kearny SRA, Indian Cave SP, Johnson Lake SRA, Lake Ogallala SRA, Louisville SRA, Mormon Island SRA, Platte River SP, Ponca SP, Red Willow SRA, Rock Creek SHP Station, Schramm Education Center, Sherman Reservoir SRA, Wagon Train SRA, Wildcat Hills SRA and Windmill SRA.
For more details, including departure times for all day one hikes, visit outdoornebraska.org/firstdayhikes.
A valid Nebraska State Park Permit is required for all vehicles entering park areas; 2022 permits are available for purchase at park offices or at outdoornebraska.org.
Riders are encouraged to tag @NEGameandParks in their Facebook, Twitter or Instagram posts for a chance to be featured on the agency's social feeds.
Be sure to check the weather before you leave home and dress appropriately in layers, bring water and snacks, and hike with a partner. Pets are welcome but must be kept on a leash.
Hunters and landowners are encouraged to provide feedback on big game issues at the Nebraska Game and Parks Commission public information meetings this winter.
Meetings are scheduled in each playground and park district. Biologists will discuss big game harvest results and season structure, and answer questions on several topics including big game management, depredation, permits, antlerless harvest, trophy management and diseases, among others.
All meetings begin at 7:00 p.m. local time.
» January 3: Hebron, Hebron Activity Center, 329 Lincoln Ave.
January 5: Fremont, Fremont Lakes State Recreation Area Group Lodge, 4349 W. State Lakes Road.
January 6: Lincoln, Nebraska Game and Parks Outdoor Education Center, 4703 N. 44th St.
» January 10: Cambridge, Cambridge Community Building, 722 Patterson St.
January 11: Alma, Johnson Center Building, 509 West Main St.
» January 12: Alliance, Knight Museum and Sandhills Center, 908 Yellowstone Ave.
» January 12: Burwell, Burwell Senior Center, 411 Grand Ave.
January 13: Valentine, Niobrara Lodge, 803 East US Highway 20.
People who cannot attend a meeting can watch a big game briefing session online via Zoom. The Zoom meeting will take place at 7 p.m. central time on Tuesday, January 18. Those wishing to attend can find information and the registration link at outdoornebraska.gov/deer.
Changes to fishing regulations for 2022
Anglers should be aware of changes to fishing regulations that will come into effect on January 1.
» Black bass – The area where no minimum length limit is required for smallmouth bass extended to the Nebraska Public Supply District Canal from the outlet of Sutherland Reservoir to the confluence with the South Platte River in Lincoln County; this includes Lake Maloney. Bufflehead Wildlife Management Area and David City Ponds are added to the list of waters where the minimum black bass length limit is 21 inches.
» Striped Bass, White Bass and Striped Bass Hybrid — Wagon Train Reservoir is removed from the list of waters where the exception to the catch limit is three fish in the daily catch.
» River Catfish — Box Butte Reservoir is added to the list of waters where the bag cannot hold more than one fish 30 inches or more in length.
» Lake McConaughy – It is illegal to own windshield wipers on Lonergan Creek from its junction at Lake McConaughy upstream to the culvert under Nebraska Highway 92.
No live baitfish — DeFair Lake WMA in Grant County has been added to the list of waters where it is illegal to use or possess live baitfish.
Anglers can read the 2022 Fishing Guide when it becomes available in January at outdoornebraska.org.
Growing WILD educator workshop
A Growing Up WILD Educator Workshop, which provides an early foundation for developing positive attitudes and behaviors toward nature and lifelong social and academic skills, is scheduled for 6 p.m. on January 12 . The free workshop will be virtual on Zoom.
This award-winning early childhood education guide is intended for educators of children ages 3-7. The guide builds on children's wonder at nature by offering age-appropriate interdisciplinary lessons. Each themed lesson includes several activities that teach math, reading, letter recognition, science, social studies, and social-emotional skills.
See the calendar event entry at calendar.outdoornebraska.gov for more information and to register.
Educator workshop Birds and Books
Nebraska is home to over 450 species of birds. They are easy to see and fun to watch, creating a fantastic opportunity to learn about science.
A virtual Birds and Books Educators Workshop on January 26 will use literature to teach science concepts to preschoolers.
Participants will receive lesson ideas and books about birds and science. This free Nebraska Game and Parks Commission workshop, which begins at 6 p.m. Central Time, is approved for two hours of service. Register through the calendar event listing at calendar.outdoornebraska.gov.
Virtual Webinar "The Science of…"
The Nebraska Game and Parks Commission will host a virtual webinar "The Science of…Animal Teeth" at 3 p.m. on January 27.
Teeth are an indicator of what an animal is eating. They also provide insight into an animal's evolutionary heritage.
The webinar is free, but registration is required in the calendar event entry at calendar.outdoornebraska.gov. The webinar will be recorded and posted on the Nebraska Game and Parks educational YouTube channel. Contact [email protected] for more information.