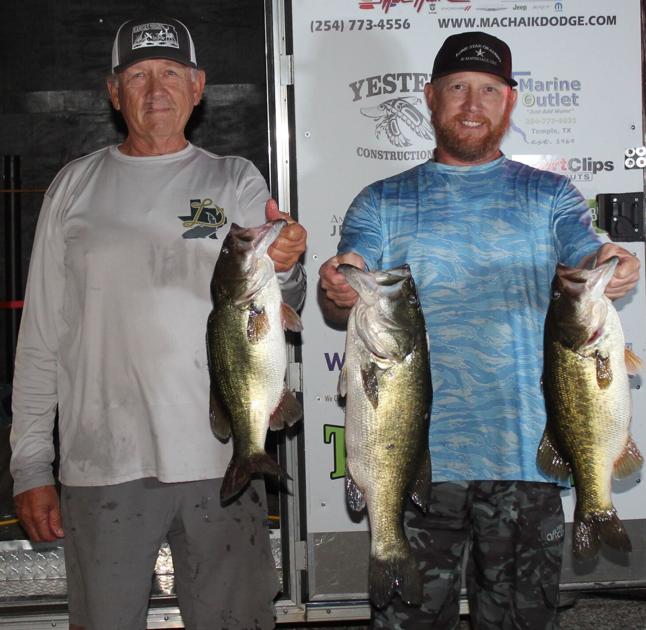 Father-son team wins 3X9 series | Outdoor sports
On Tuesday evening, 53 teams took part in the weekly 3X9 Series bass tournament held at Stillhouse Park on Stillhouse Hollow Lake.
The weather this summer has been atypical, presenting fishermen with above normal water levels and below normal water temperatures.
After nearly an inch of rain fell over much of central Texas on Monday night, Belton Lake and Stillhouse Hollow increased on Tuesday as runoff moved towards both lakes.
This week Jim and Wade Golden's father-son team placed first, and they won in a big way, finishing more than two pounds ahead of the second-place team and more than six pounds ahead. 'advance on third place. team.
The Goldens' three-fish limit weighed 18.24 pounds and included a 7.57 pound largemouth bass.
Jim Golden said: "We really struggled this year on Tuesday nights. It feels good to catch quality fish. We were targeting fish hanging in the trees off the river channel. Work a Texas-rigged
Yum Dinger and Spinner Bait 1/4 oz. I had been out fishing at the end of last week and had caught a few small shoaled fish near a few trees. I found the biggest fish hanging in the trees with our electronics. Then I started to specifically target those bigger fish in the treetops.
Second place went to the husband and wife team of Floyd and Vickie Lesiker. The Lesikers landed the biggest fish in the competition, a largemouth bass weighing 8.16 pounds. The couple's entire bag weighed 16.19 pounds.
Floyd Lesiker reported catching the big fish off "… the grass lines outside eighteen to twenty feet." "
Third place went to partners Craig Gilbert and Dexter Thompson. The men brought 11.53 pounds of bass to the scale.
Last week's winners Bill Blisard and Mike Carroll finished in 24th place this week, weighing in a single fish at 2.18 pounds.
A total of 69 fish were weighed with a cumulative weight of 186.55 pounds, giving an average weight per fish of 2.7 pounds. Twenty-eight of the 53 teams weighed at least one fish.
Anglers interested in participating in this weekly tournament open to the public can contact Dean Thompson at 254-690-3474.