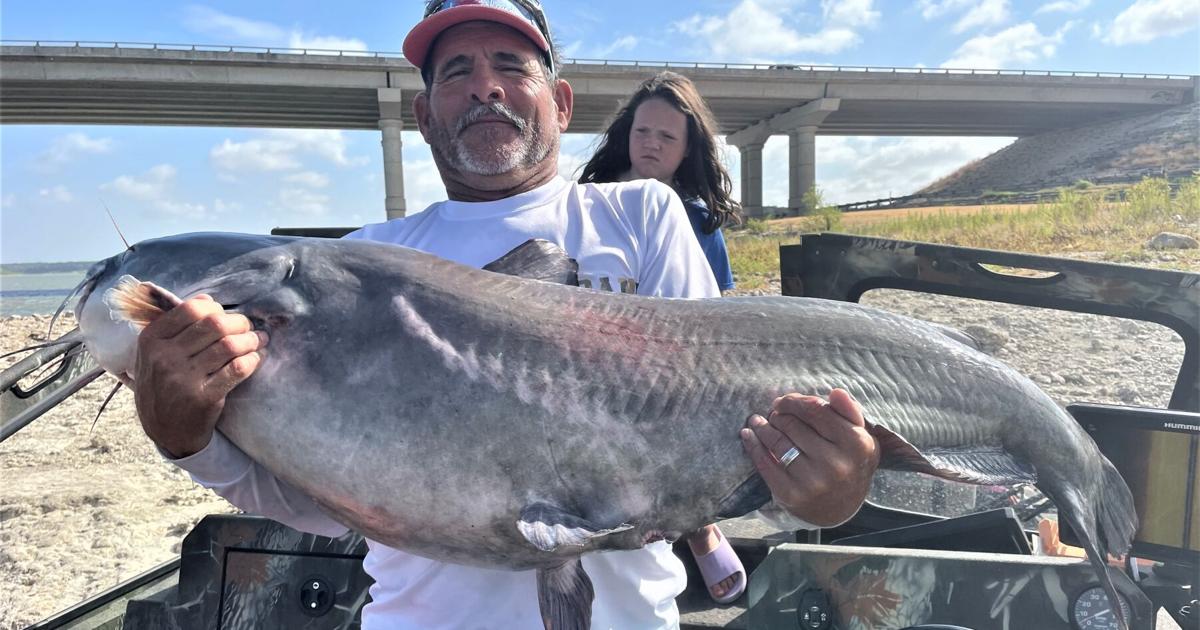 BOB MAINDELLE: Waiting for a record blue catfish caught in Lake Belton | outdoor sports
While on Stillhouse Hollow Lake mid-morning on August 6, I received a phone call from another angler on Belton Lake.
Randy Bane was calling me because he had landed what he believed to be a Belton Lake record blue catfish in the catch and release category. Fish records in this category are based on fish length only, not fish weight.
Belton Lake catfish guide Brian Worley suggested Bane call me for details on submitting a full application for the potential record.
As I talked to Bane through the process, I explained the three critical elements: a clear photo of him holding the fish, a clear photo of the fish on a measuring board with its mouth closed and tail lobes pinched together and the units of the measuring board clearly displayed. , and indicator of the measurement.
With that, we ended the call so Bane could work to get those items and get the fish out of his boat's livewell and back into the water. We agreed to get in touch later so I could help him complete the Texas Department of Parks and Wildlife application.
Bane has been fishing since he was 8 years old. Bane's father introduced him to the sport. The two usually traveled to Lake Somerville to fish from their family's boat. Bane remembers catching catfish at that young age and becoming really interested in specifically pursuing that species of fish.
Fast forward 52 years and Bane, now 60, continues to fish for catfish recreationally.
This particular Saturday morning, Bane was set up in shallow water. He had deployed seven rods, each baited with cut shad, the shad impaled on red 7/0 Gamakatsu hooks on the terminal end of a Santee-Cooper rig.
The Santee-Cooper rig uses a weight to bring the bait to the bottom, and a small float on a short leader attached between the weight and the hook to lift that bait slightly up off the bottom. In Bane's setup, it leaves about a foot of line between the weight and the float, and about five inches of line between the float and the baited hook.
Bane's choice of equipment included a B 'n' M Poles Silver Cat Elite rod mated to an Abu-Garcia 6500 series spinning reel. The rods were all set in Monster-branded rod holders.
With so many rods deployed, keeping the boat still is essential. Because of this, Bane was not only tied to a stump, but his two Raptor shallow water anchors were deployed.
At 9:27 a.m., Bane heard a commotion in nearby shallow water and suspected a catfish had picked up one of his bait. Looking through all the rods, he quickly identified which rod the catfish was on and latched onto it.
During the nearly 20-minute battle that ensued, Bane constantly had to hover his rod above or below the other six rods in order to avoid an entanglement, which he did perfectly. As the scuffle continued, the fish snagged momentarily on a submerged stump, but the 65-pound trial braid and 50-pound trial leader held firm.
Eventually, Bane worked the fish to the edge of the boat and put it in his trademark R 'n' S net. Still, the game was far from over. Bane's back is not at his best and as a result he has made several unsuccessful attempts to get the fish into the boat. On his fourth try, Bane finally managed to get the fish over the gunwale, but the nearly straightened hook fell out of the fish's mouth and onto the deck of the boat.
Bane phoned his wife, Tanya Bane, and let her know that he had landed a large fish which he suspected was a record; he let her know that he was going to need help. By the time Bane arrived at the meeting point with his wife, she had gathered help from catfishing guide Brian Worley, fellow catfisherman Jerry Dillard, neighbor Keith Morales, nephew Todd Lisenbe and of friend Jason Cummins.
Bane's SeaArk 22ft Aluminum Flat Bottom Fishing Boat was designed specifically for this type of fish. The boat is equipped with a 250 horsepower Suzuki SS outboard motor and trolling motor fitted with a 36 volt Minn Kota GPS and 112 lbs thrust.
The quality of the boat, the 100 gallon livewell did a great job of keeping the fish healthy. The fact that the fish was caught in warm, shallow waters also meant that they were acclimated to such conditions, unlike fish caught in deeper, colder waters, which can perish during the summer months when 'they are kept in hot water in a tank.
The gathered crowd worked to help Bane get the required photos. Bane's blue catfish measured 47½ inches in length. It was just a quarter inch longer than Belton's current blue catfish record.
Later that evening, Bane and I filled out his application via telephone conversation. I then sent him the unsigned document for signature. Bane then emailed the signed application and required photos to TPWD who then acknowledged receipt of the application.
If all goes as planned, TPWD will issue Bane with a certificate making him the new catch and release water body record holder for blue catfish on Belton Lake.
Contrary to the belief of many anglers, no weighing is required for fish entered in the catch-and-release category. TPWD specifically eliminated weight as a requirement for this category to significantly reduce the handling and time out of water required to bring fish to a certified scale, place them on that scale, weigh them, and then return them to the scale. water.
Local anglers who need assistance with registration applications or weighing retained fish can contact the Holding the Line guide service at 254-368-7411. It has certified scales up to 60 pounds capacity.