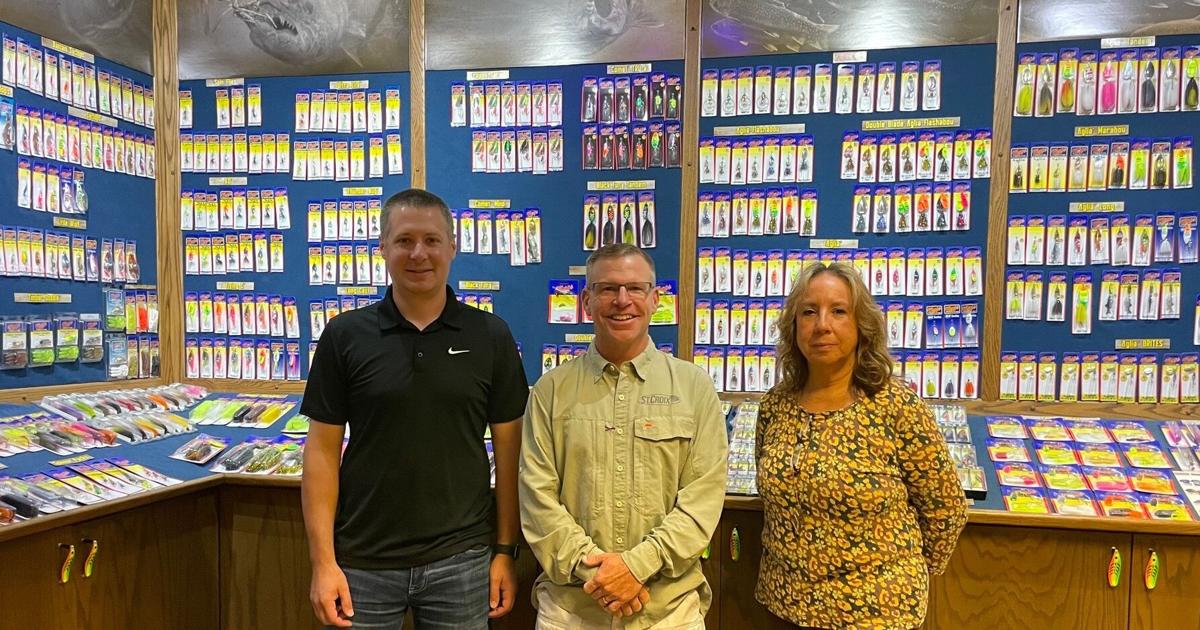 BOB MAINDELLE: Visit of the Mepps lure fishing factory | outdoor sports
My wife and I woke up at 2 a.m. Tuesday to allow enough time for our 6 a.m. departure from Austin-Bergstrom International Airport. After taking my one and only fishing trip of the week on Monday, then doing copious amounts of laundry and dishes, taking the dog to Grandma's, etc., the moment of our long-awaited trip to Wisconsin was finally arrived.
After fishing about five days a week in 100-degree weather since June, the promise of cooler temperatures in Wisconsin would have been reason enough to leave Texas. We did better, however,
and planned to visit the Mepps fishing lure production facility in Antigo, Wisconsin.
The word "Mepps" is actually an acronym for the French name of the company, which is Manufacturier D'Engins De Precision Pour Peches Sportives; an English interpretation would read: Precision Equipment
for sport fishing.
After landing in Milwaukee courtesy of Southwest Airlines, we rented a car and began the three-hour drive west to the small town of Antigo, Wisconsin, where we would spend the night. before the factory visit we had planned for Wednesday.
On Wednesday, we were greeted by Dan Sheldon, Mepps Production Manager, and Laurie Powell, Mepps Customer Service Manager. It was with Laurie that I made my first contact with Mepps in
the spring of 2020, which eventually led to a relationship between my own company and theirs in which Mepps would produce the family of MAL decoys I had designed.
For more than two years I had been dealing with these people who, until now, were just voices on a phone line or signers on emails.
The facility itself was clean and tidy in all respects. Incredibly, all 7,000 types of lures made by Mepps are on display inside.
With my background in engineering and having had a lifelong curiosity about how things work, I was most looking forward to visiting the automated equipment that assembles and packages what Mepps
rightly boasts of being "the world's #1 lure".
I was then a little surprised to see how much assembly of Mepps products is still done by hand. From sorting out the components, to placing those components on the shaft of what will become an inline spinner, to bending and creating the loops of yarn at each end of the lure, to attaching the tail hairs of squirrel on decoy hooks, much of the production is still handmade by Americans in America.
The only truly automated process is the packaging of the lures in their distinctive, protective, clear plastic wrappers suitable for hanging on the walls of bait shops. However, even this process relies on
people place the wrapper in containers, then the decoys in the wrapper, before machinery takes over and seals the decoy in place.
According to company employees, Mepps got its start in 1951 when Tom Sheldon received a gift from a soldier returning from Europe to the United States. This gift was a fishing lure, generically called an inline spinner.
Sheldon had such success with the lure that he began producing his own rendition in a 10-by-10-foot space at the back of his bait and tackle store. Today, Mepps operates from a 50,000 square foot lot
production plant that produces more than three million lures per year.
A total of about 45 employees work together to produce this huge volume of lures every year, but not all of these employees show up at the factory for work every day. Many actually work from home,
and did so before the impacts of COVID-19. People engaged in this cottage industry come to the factory, collect spinning rods, hooks, feathers, squirrel tails, thread and barrel components.
which made up the bodies of the decoys and assemble them into a partially completed spinner. These partials are then returned to the factory to be completed.
At the factory, workers are all cross-trained so that everyone can perform each of the tasks necessary to produce a quality end product. Again, I was amazed at the longevity of the majority of workers
at the Mepps factory. For many, working for Mepps was the one and only job they had ever had in their 30 or 40 year career or more. Indeed, as we pulled into the parking lot before our visit, we saw an older lady, who we later learned was 84 and who had worked for Mepps for nearly 50 years, arrive on her bicycle from home a few blocks away.
At the start of our visit, we entered the process where parts not pre-assembled by those working from home are added to the metal rod of the lure. This usually includes two cone-shaped brass
components called "bells", a U-shaped yoke from which the spinner blade hangs, and a bead – all intended to help spin the spinner blade quickly and easily, and keep it spinning freely during recovery .
Next, we toured what looked like a small laundromat with industrial grade washers and dryers lining the walls. This is where red, gray and fox squirrel tails sent in by hunters across the country are landed, bleached, dyed, cut to length, then securely attached to hooks to give some spinners even more appeal. for fishing.
From there, we toured a workstation where extremely durable decals are placed on the spinner blades to enhance color, contrast and appeal.
Then it was on to another work area where proprietary machinery is used to form the loop in the wire shaft which will serve as where an angler's line is attached to the lure. By doing so, all accessories previously placed on the tree are held in place. Finally, the "tag" ends of the yarn are both cleanly and precisely cut before the lures are moved for packing.
Two ladies were working on the packing machine when we visited their area. Each worked diligently and in sync with the other, to lure into inverted plastic bubble trays. Once the lures
rested in their places, the frames were whipped into a heated chamber where the glue on a product information card was made sticky enough to adhere to the plastic bubble pack holding the
lure. The two are mated and the result is a neatly positioned lure, suspended in the package, ready to display on a bait shop shelf.
Our last stop in the main building was in the shipping and storage areas where finished goods are either put on the shelf and ready for future orders or shipped.
From the main building, Dan Sheldon walked us about a block to a separate facility where their spray booths are. This is where all lure components that need to be painted have an engraving,
paint and clearcoats applied before heading to a natural gas curing oven.
We concluded the tour where we started, in the company lobby, where walk-in customers regularly come to the street to buy lures and other Mepps accessories and/or to sell tails. squirrel,
and where a fine trophy room with mounted specimens of fish and game is on display.
The visit of approximately 30 minutes of the main building is accessible to the public from Monday to Thursday.
Tour times vary by season. From January to April, tours are offered at 10:15 a.m. and 2:00 p.m. From May to December, tours take place at 9:15 a.m., 10:15 a.m. and 11:15 a.m. and at 1:30 p.m. and 2:30 p.m.
Learn more at mepps.com.