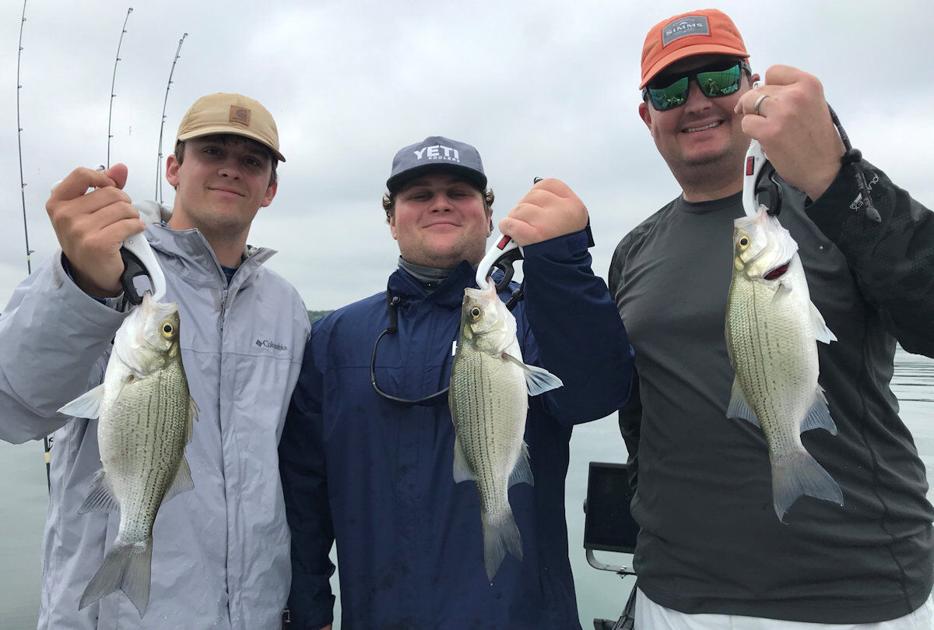 BOB MAINDELLE: The UMHB bass fishing team makes its debut | Outdoor sports
Thursday morning, I welcomed aboard my boat Dr. Aaron Baggett, University of Mary Hardin-Baylor Faculty Godfather of the UMHB Bass Fishing Team, along with two of the members. of that team, Carter Vaughn and Caleb Ramm.
Baggett was kind enough to give me an interview on the college bass fishing team. Here are the highlights of this interview.
Q: What is the name / real status of the fishing activity at UMHB?
A: The official name of the group is the University of Mary Hardin-Baylor Bass Fishing Team. The team is technically considered a club sport, which falls under the Student Life Division, not the Sports Department as many might assume. Of the many colleges and universities across the country with bass fishing teams, most are structured the same way as club sports with a few classified as athletic teams. In either case, these teams are not subject to the governance or oversight of the NCAA. The advantage here is that these teams are able to solicit sponsorships and other licensing agreements that other student-athletes and sports might not be eligible to receive.
Q: How and when was the team designed?
A: In the fall of 2019, Carter Vaughn (now team president) and a friend of his, Cade Isbell (now team vice president) were fishing on one of the shores of Lake Belton dreaming of 'a scenario that would one day allow them to do what they loved by representing the university. Knowing that many other colleges and universities in the United States offer competitive bass fishing as a club sport, they approached Sue Weaver, UMHB Campus Recreation Director, with the idea of ​​creating a similar club on campus.
This semester, bass fishing was added to the list of potential club sports for consideration at a student interest meeting. In the end, over a dozen students showed a keen interest in joining or learning more about the club. Twelve students may not seem like a lot, but out of an undergraduate student body of around 3,000, it was a good performance.
Q: How is the organization structured / governed?
A: Being an official student organization / sports club, the team was initially tasked with drafting a constitution and set of bylaws, which is the norm for any student-led group on campus. Documents are standard for groups of students like this, including a minimum GPA requirement, adherence to the UMHB student code of conduct, team goal statement, etc. Of the nine members, there is a team president, vice president, treasurer, and session secretary.
Q: Which schools is the team competing with?
A: During the 2020-2021 academic year, the team participated in two tournaments, which were part of the Abu Garcia Major Fishing League college fishing circuit.
College anglers from across the country can compete in tournaments from any of the five conference divisions (e.g., Center, North, Southeast, South, and West). However, since divisions are designed to be more regional in nature, most tend to compete within their conference.
That said, on March 26, 2021, Jacob Froese and Caleb Ramm became the first pair of anglers to represent the UMHB when they competed in a one-day MLF Central Conference tournament at Table Rock Lake in Branson. , Mo. On April 16, 2021, the team sent six anglers – Jacob Froese, Caleb Ramm, Colby Hamilton, Carter Vaughn, Jordan See and Nobel Smith – to compete in a one-day MLF Southern tournament. Conference in Lake Somerville near Brenham, Texas.
Q: How many students make up the team? Females?
A: The team is currently made up of nine undergraduates. There was interest from a few undergraduate women, but none officially signed up.
Q: Does participation cost the student anything other than the expenses they already incur for their studies?
A: The UMHB Student Activities Office staff and team leadership have decided that no membership fees or other associated fees will be required in the inaugural year 2020-2021. From the 2021-2022 academic year, each team member will have to pay a membership fee, which will be used for general running costs, promotional items (e.g. hats, t-shirts, stickers, etc. ), team jerseys, equipment and even tournament entry fees. The plan is to charge between $ 250 and $ 375 per year for contributions.
The UMHB contributes a relatively small share of capital to the budgets of all active student organizations to help offset the costs of some of the items mentioned above.
Q: Are scholarships available for interested high school anglers?
A: Like many small private liberal arts universities, UMHB does not offer sports scholarships. Likewise, no scholarship is available in the form of sports club recruiting. However, according to US News and World Report, 81% of full-time undergraduates at UMHB receive some kind of need-based financial aid, and the average needs-based scholarship or grant is around $ 15,000 per year.
Q: How is the team currently equipped?
A: Many tackle and gear manufacturers offer friendly sponsorships in the form of a company logo on team jerseys, promotional materials, etc. However, the biggest benefit of these sponsorships comes in the form of lucrative discounts for team and individual fishing gear and equipment purchases. Most discounts vary between 25 and 40%. Currently the team is sponsored by Lews, Strike King, Zoom Baits, Seaguar, Spro, Rapala (and all affiliate brands), Cashion Fishing Rods and Aftco.
Q: What are the names and hometowns of the current members?
A: Our members include Jacob Froese, Belton, Texas; Colby Hamilton, Joaquin, Texas; Cade Isbell, Austin, Texas; John Kazmierski, Buda, Texas; Caleb Ramm, Salado, Texas; Jordan See, Pasadena, Texas; Noble Smith, Edgewood, Texas; Carter Vaughn, Katy, Texas; and Gabe Weitzman, Cypress, Texas.
Q: What is your role within the team?
A: All UMHB student organizations must have at least one faculty or staff member serving as a sponsor or liaison on campus. As an associate professor of psychology, my role is that of the faculty sponsor. Worked with the team leader roster to help draft the constitution and bylaws, complete sponsorship applications, design team logos, and interface with campus and community constituents . In addition, I also help the team develop tournament strategies by breaking down maps of the lakes taking into account seasonal and weather conditions when selecting baits and other fishing presentations.
Q: Any notable accomplishments for the team so far?
A: In their first year of active and approved status, the team sent a total of six anglers to compete in two national tournaments as part of the MLF Abu Garcia College Fishing Tour. While we didn't have any team spots, we just view the competition as an accomplishment – especially since at the time the team had gone from dream to reality in 18 months which even included a global pandemic!
Q: Other than tournaments, what other team-specific activities do members participate in?
A: We are starting to establish a social media presence with Twitter and Instagram accounts. In the future, we would also like to integrate more community and campus service initiatives.
Q: How often does the team meet as a whole, if any? Where ?
A: With UMHB's COVID-related restrictions this year, the team's ability to formally meet on campus was limited. Instead, they held several informal team meetings in their respective apartments. We did, however, have two formal team meetings at my home at the start of the fall semester and at the end of the spring semester.
With campus COVID restrictions relaxed, we hope to meet formally each month over the coming year. One of my goals is to have a team member responsible for giving a presentation on fishing to the team at every meeting. For example, their task might be to spend time researching and learning a particular presentation or fishing technique like the dropshot, Carolina rig, etc. and then teaching it to the rest of the group.
We also plan to periodically invite local fishing experts to give a presentation on a wide range of topics including sonar, tournament preparation, techniques, and more.
Q: What are the team looking forward to for the new 2021/2022 academic year?
A: The team plans to continue participating in the college MLF circuit over the next academic year. Among other goals, we plan to create a team specific webpage on the official UMHB website, increase social media presence and focus heavily on recruitment efforts among high schools in the region.
We're also planning to at least volunteer to some extent in the next iteration of the Central Texas Boat Show.
We are open to partnering with local businesses interested in sponsoring our members and their efforts as we strive to achieve these goals.