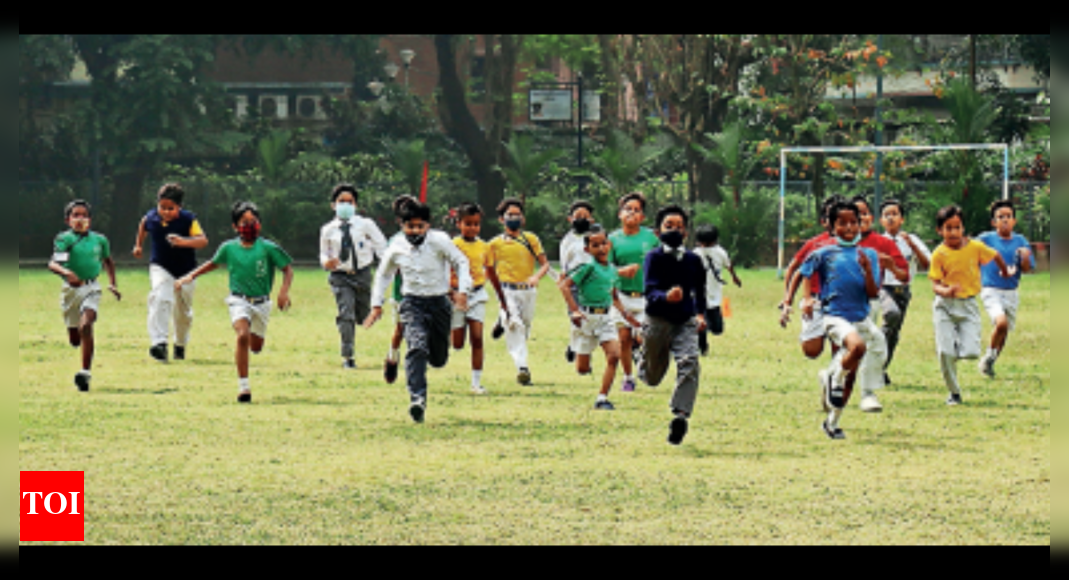 A Healthy Mind in a Healthy Body: Schools Focus on Outdoor Sports | Kolkata News
KOLKATA: As preschool children leave their homes for school, principals and teachers are developing a new routine that focuses heavily on outdoor activities, such as games, so children who had been locked up in their homes for two years running around and exercising.
St Lawrence Secondary School held a special outdoor interactive session for pre-primary pupils on Saturday. This section was also introduced this year. Students performed freehand exercises and participated in interactive games. "I came to school so I could play on the pitch. It's boring to have classes at home," said a Class I student. "The grounds are beautiful. It takes a lot of effort to maintain it. We hope the children will enjoy playing on the pitch and it will help them adapt quickly to school life," said Fr Francis Jimmy Keepuram, Principal of St Lawrence.
"For young children, playing outside contributes much more to their mental and social strength than classroom lessons. Growing children kept indoors not only lead to vitamin D deficiency, but also poor hand-eye coordination and lack of strength in the limbs. We will consider restructuring the program to accommodate more outdoor sessions. I think it would take about a year to restore normalcy in the development of these children. The behavioral and psychological changes during these two years may not be overcome, so we will also have to adapt to the new normal," said Ram Mohan Mission School Principal Sujoy Biswas.
Future Foundation School principal Ranjan Mitter said: "Some of these children have difficulty with balance and coordination. We had two preparatory weeks of outdoor classes during which we saw marginal improvement. We want to give them that time to run and make friends. We hope they will improve. Children forget their habits and quickly adapt to new ones.
DPS Howrah started pre-primary classes from Monday. Principal Sunita Arora said: "We are lucky to have a huge park where we take the pre-primary children for 40-minute activity sessions each day. The children adapt well. In one of the two sections, in a class of 30 students, I found about five children a little undecided or clinging to their mothers. But for children, playing is instinctive.
Sonali Sen, director of DPS New Town, said they changed the program to allow for more physical exercise. "The pandemic has been tough on these little ones and to bring them back to a healthy environment, we have structured a fun program with outdoor games and physical activities. We have planned nature walks, dancing, exercises and fitness exercises, structuring the program that will restore balance and contribute to the overall development of children.