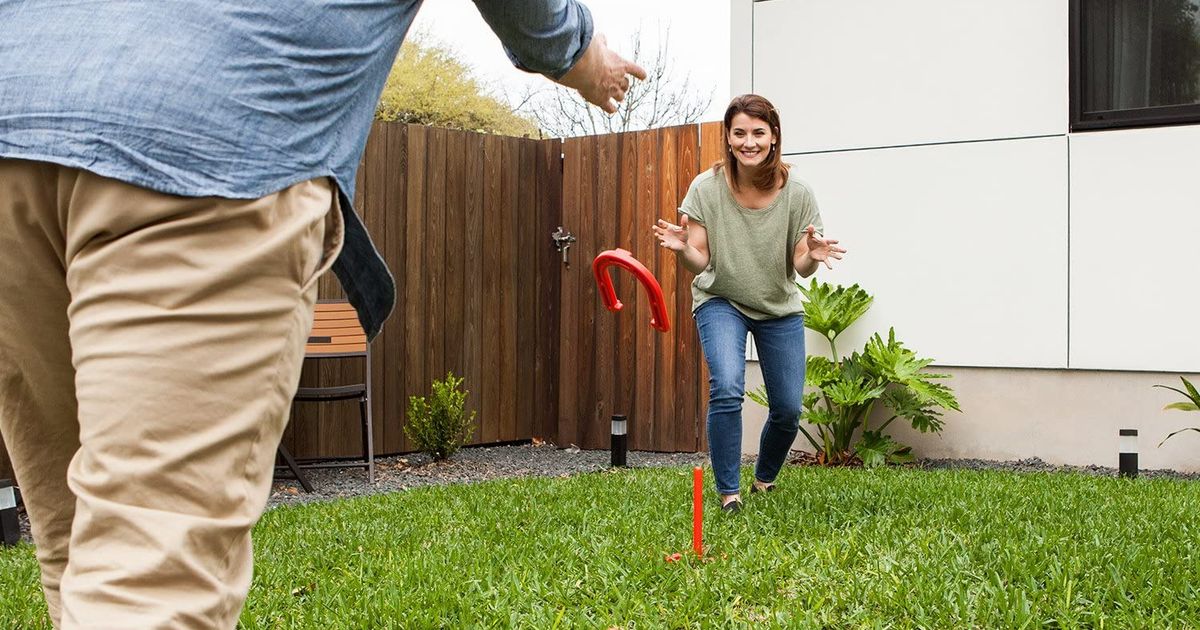 17 Best Outdoor Games 2021
Photo: Amazon/Champion Sports
Since the weather is just about nice enough to socialize outside, it might be nice to mix up your next outdoor gather with an outdoor-appropriate game (instead of a walk for the umpteenth time). And while we've written about a lot of games you can play — including the best two-player board games and the best board games for families — here, we've rounded up the best outdoor games, as praised by the most enthusiastic reviewers on Amazon.
Related Article: Best Lawn Games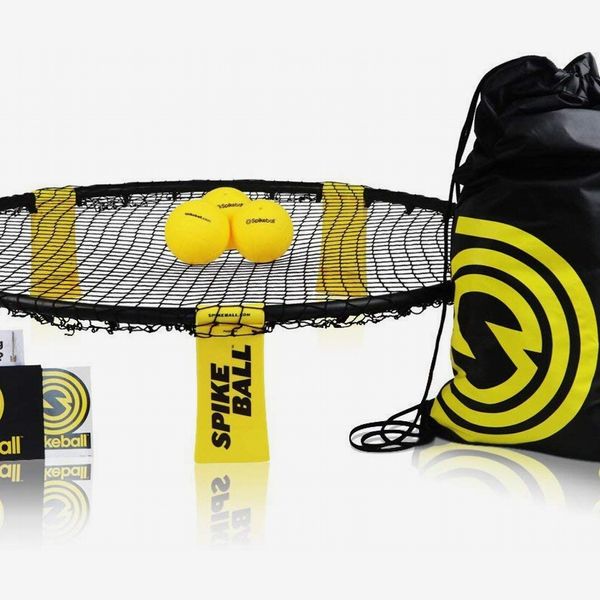 "Spikeball is one of the greatest lawn games ever invented," asserts one reviewer, listing the reasons. "It is easy to carry with you, easy to setup, and is an easy game for anyone to pick up on quickly." "Fun" is a word used in hundreds of reviews, and the general consensus is that this is a game for all ages. "We've played with 5 years old to 65 years old…even a pregnant mom," one reviewer writes. As one reviewer describes it, "It's essentially volleyball, but instead of the ball going over the net, once it HITS the net the other team takes service." That's why several reviewers say it's a great form of cardio. Many also love how easy it is to take this game wherever the party is going. "We really enjoy playing this game in the grass, on the beach, while camping, and more," one reviewer says, adding "you do need a pretty large, open area in order to play, but everything assembles and disassembles easily and quickly so it's easy to transport!"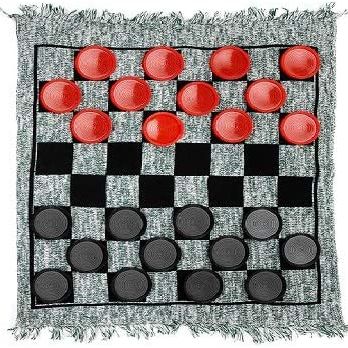 Whether you've spent the last several months in self-isolation mastering checkers or you're teaching it to someone for the first time, you can take it outside with this giant kit. One reviewer says that the larger-than-usual "rug size checkerboard" is ideal for "teaching young children the game indoors or on the beach." Another appreciates that they can take the machine-washable rug and plastic pieces "to the river, no worry about it getting wet." A handful even mention that it's made outdoor, socially distanced gatherings more enjoyable. One reviewer bought this to play outdoors with her sister and says the large rug helps them "not be close to each other" while still spending time together. Another says this was a "big hit" at an outdoor party: "People lined up to play the winner of the last game and what I really like about this game is that you can also turn it over and play tic tac toe. Well worth the money spent," they write, echoing the sentiment of others who appreciate this game's under-$20 price tag.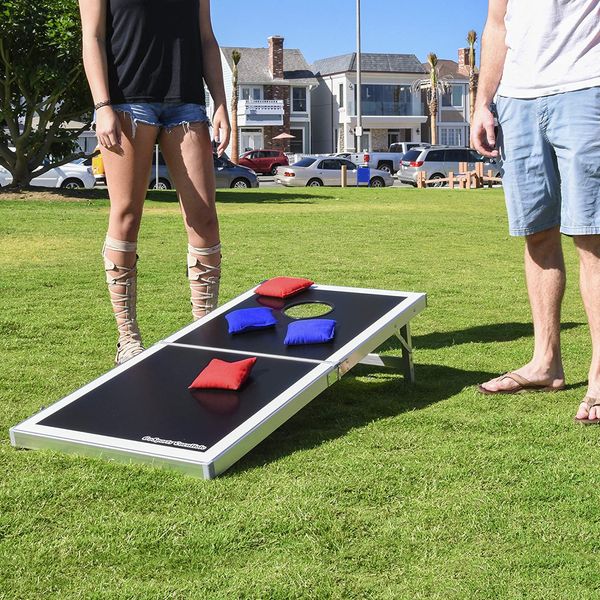 "This Cornhole PRO bean bag toss game set is what I'd classify as the Cadillac of corn hole boards," writes one reviewer. Quality is a word that comes up in dozens of reviews, and many also like that these foldable boards are easy to transport, especially compared to the classic wooden kind. "I've played on a lot of different sets in my day and I have to say, this one is up there," one reviewer writes. "The portability is great, it isn't too light (you don't want the boards shifting all around) but they also aren't too heavy to lug around long distances." While many reviews mention the ease of taking this game to the beach or on a camping trip, this set of corn hole is also light enough to make the trip to "Aruba and Mexico" according to one reviewer. Wherever you finally set up, according to one reviewer, you'll be able to play for a long time. "The boards and bags stood up well through intense play," they write. "The bean bags have not split apart, despite their use on a paved parking lot!"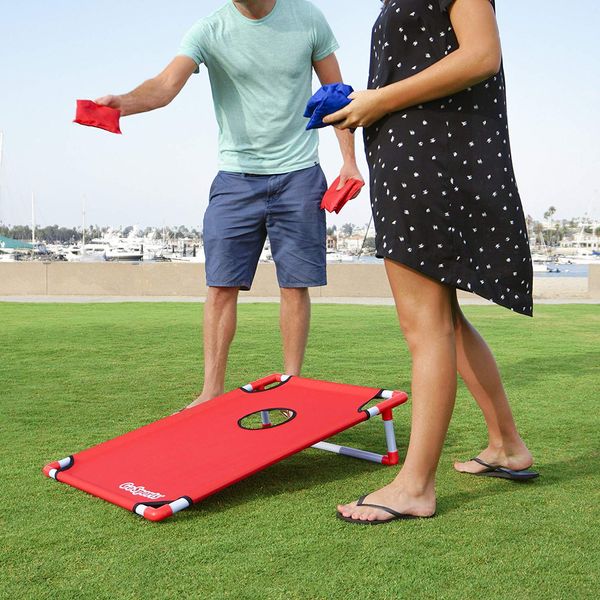 As one reviewer puts it, "This isn't competition ready, but it's great for recreational fun," and according to reviewers fun can happen anywhere since this set is so portable. With this you will be "beach, backyard and tailgate ready," according to one reviewer. Another mentions how "simple" it is to "take along and easy to store" because it breaks down into a bag. "We have taken this to family bbq's and camping," one reviewer writes adding that it is "easy to assemble, and a compact carrying case make this super convenient." Other reviewers raved about the price. "There are lots of more expensive options out there, but I'll tell ya, this gets the job done at a much more affordable price point."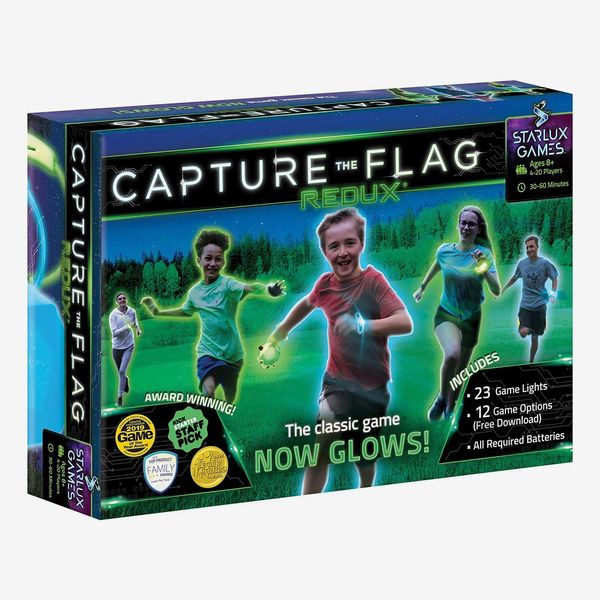 Reviewers have decided that this upgraded version of capture the flag is great for kids. "We ordered this for my son's 14th birthday," one reviewer writes. " All of the kids loved it! We had children from 6 to 14, plus adults, and everyone played." "This is a great way to get kids moving!" another reviewer writes. "The kids enjoyed this way more than the usual flashlight tag." Another parent raved about how great this set is for birthdays. "When my son got it for his birthday, we took it to a party with a bunch of kids," they explain. "They played this as soon as it got dark and couldn't stop playing." While you might think outdoor games and summer go hand in hand, this game is so fun kids love playing it year round, according to one reviewer. "We play at a big open field behind the kids school even during the cold months," they write. "The kids just dress warm and wear mittens, and all the running around keeps them plenty warm." If the price is a deterrent, this reviewer will tell you it is worth every penny. "I was hesitant to order this game because of the price, but it is worth every penny, and then some," the write. "My son got this for his birthday and every time he brings it out, it is a HIT. The kids (and adults!) all come in exhausted, laughing and claiming how much they love the game."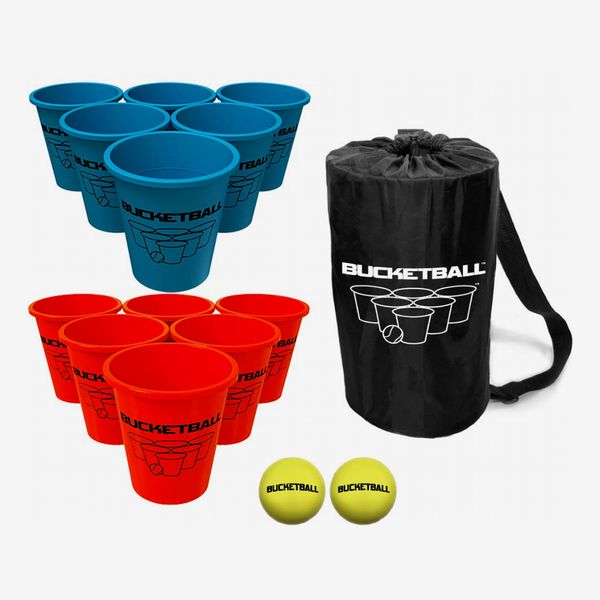 "Basically, it's giant beer pong," explains one reviewer, though many others note that alcohol isn't required to enjoy this game. "This game was simple and quick to learn and it seemed that people of all ages enjoyed playing it throughout the night," one reviewer writes. However, another reviewer notes that it's "Super fun to drink outside playing, way more fun and interesting than Cornhole. Players also appreciate that it comes with different sets of balls so they can play anywhere. "The bouncy balls work great on concrete for bounce shots," one explains, adding, "The bean bag balls are great for underhand throws and the oversized ping pong balls are good for a beer pong style throw." One reviewer points out that with these extra sets, "It's almost like three different games in one."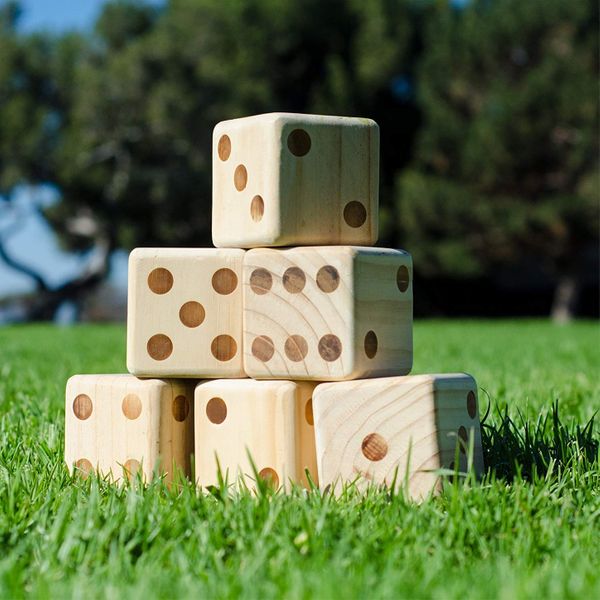 One reviewer saw this set of giant dice "at a graduation party this summer and literally ordered it from the party." In addition to graduation parties reviewers love these for family vacations and barbecues, too. "We are huge Yahtzee fans and bought this game for a family BBQ," one reviewer writes. "Everyone loved it and had a great time sitting outside playing. The dice are the perfect size, great quality and really loved the dry eraser scoreboard and travel bag." Another notes this set is "better than I expected." "They are large and well made but not too heavy to carry or use," one user writes. "They are real wood and smell nice. They corners are all rounded and the sides are smooth." Many players tack on a bucket to their order when buying this game to "get the Yahtzee feel" as one user put it and "shake up and throw the dice."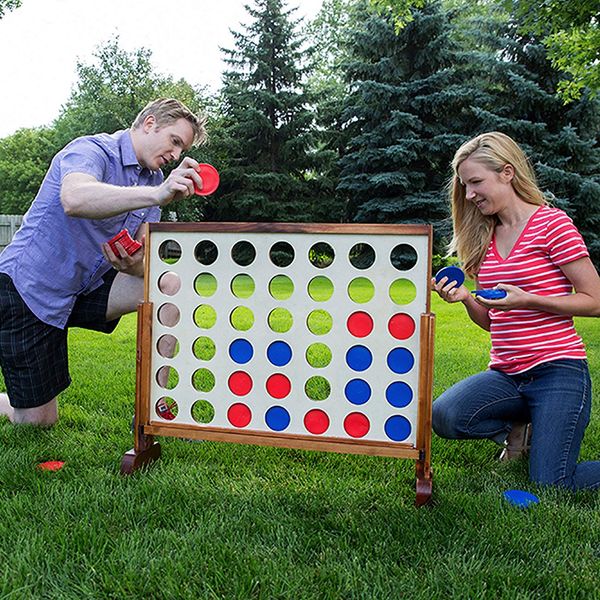 Reviewers rave about how nice this Connect 4 set looks, which is probably why many users deem it good enough to use during special occasions. "This is everything!" one reviewer writes. "The pellets are smooth and the wood is beautiful." Another says that it's "almost too nice to have outside." Pun probably intended, this newlywed says, "It was also a BIG hit as one of the games at our wedding." A soon-to-be wed reviewer says they "will be using at our outdoor wedding reception, along with some other 'giant' games." Another happy player writes, "Good quality workmanship, fits together nice. The plastic coating on the wood pucks is durable and haven't had any issues. Only bad thing I have is the noise of the falling pucks as that means we cannot play after the little one is in bed as we would likely wake her up, but that is minor, to say the least."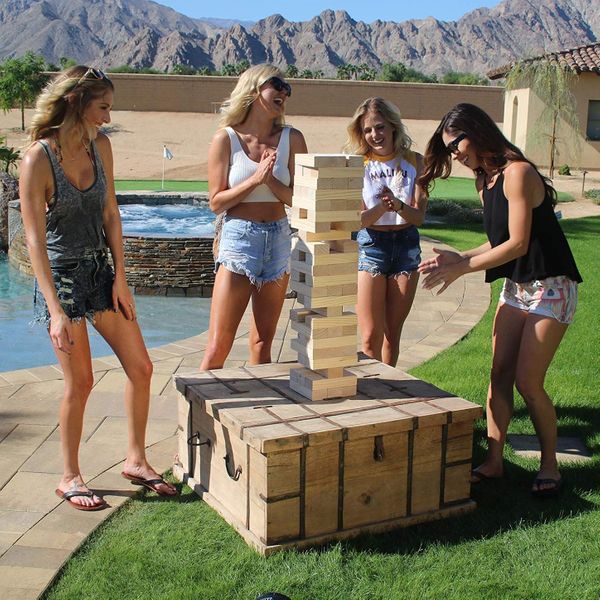 Reviewers are really impressed with how durable this Jenga set is. "I own a party rental company and my 'Giant Jenga' games go out almost every weekend," one reviewer writes. "I have four sets from another company, and the blocks are hollow so when they fall they sometimes break or split open. The Giant Toppling Towers I received from Go Sport is exactly what I have been looking for (solid wood blocks). We love them and I'm sure my customers will too." Another reviewer mentioned that the blocks "hold up to the punishment of young kids." On the flip side a reviewer warns that because the blocks themselves are so strong it puts everything else at risk. This user recommends putting them on a surface that can "withstand the dings and dents," that come with this game toppling over. However, one reviewer, who calls this game a "go-to" for their family, says, "We have had groups of family and friends as large as ten playing. To a person, everyone has had a lot of fun and gets very wrapped up in the game. … If you're thinking about buying this set, definitely go ahead and make the purchase you'll be happy with your decision!"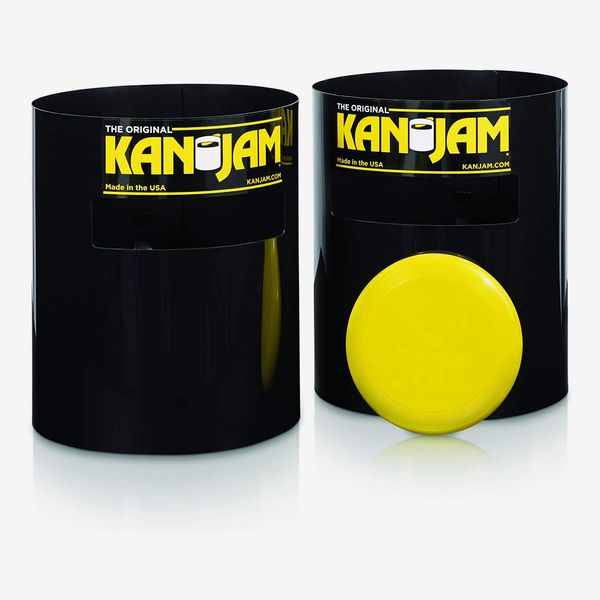 "If you're not playing Kan Jam, your life is a meaningless waste," states one reviewer, which might sound harsh but sums up how much fun reviewers think this game is. "This is a ridiculously fun and easy lawn game," another reviewer writes. "It's got the strategy of horseshoes with the fun of a team activity. The rules are simple, the equipment is made to last — if you are looking for a semi-active game to bring to the beach, family barbecue, or even company picnic, this is it!" Many reviewers mention how this game has gotten their whole family involved and even inspired annual tournaments. "It's a team game so fun to get the whole family involved," one reviewer writes. Another says it, "really helps create community and friendly competition."
One reviewer who's new to bocce ball says, "This set has absolutely turned me into a fanatic," and he now plays nightly in his backyard. "Good quality product with instructions and a nice carrying case," he adds. Another newbie says he is "smitten with this set" and especially enjoys that "the balls feel heavy, solid, and durable. There's not a ton to do in southeastern Iowa in the best of times, and these ain't them, but this bocce set has been a tremendous addition and it's my new favorite activity." But even veteran bocce players vouch for this set's clear instructions and ease of use, including one customer who has been playing for over 50 years and calls this set "the real deal. One of them took a roll off the picnic bench onto concrete, only took a small scuff." He describes the entire set as structurally sound.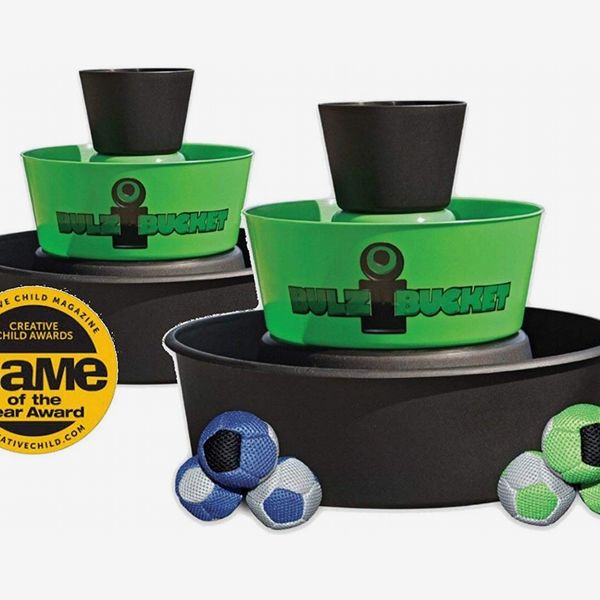 Dozens of reviewers say this game is great to play in the water. "Think CornHole in the pool," as one user describes it. "The buckets float nicely in the pool and the balls did not sink," another reviewer explains. "It is easy to put together and take apart. It is larger than I envisioned, but very lightweight and carries nicely in the bag that comes with the game." Other reviewers say they like the game because of its versatility. "Best part about this game is that you can play on land or in the water," one writes, which means this game does not actually require a pool. No matter where you play, one reviewer writes this game is "more fun than 3 stackable buckets should be."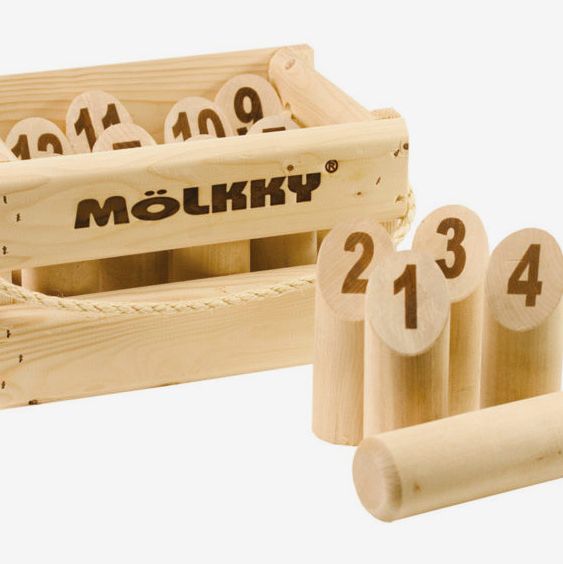 If you'd rather play on the grass then in the water, consider this European lawn game, which requires throwing a wooden peg at numbered pins until you accumulate a total of exactly 50 points. It's a favorite of our deputy editor Maxine Builder, who learned about it on a trip to Paris a couple years ago, as well as lots of reviewers on Amazon. "It's a fun, mildly competitive yard game, combining the best elements of horseshoes, bocce, with the hand eye coordination of corn hole. And yes, some elements of bowling," writes one reviewer, who played it with a group of 15 adults and teenagers for "five hours in a row" without getting bored. And even though it combines elements of those games, many reviewers appreciate that Mölkky is "fun for any number of players unlike bocce or corn-hole, where you are limited to two or four." One reviewer does warn, however, that it requires "a flat yard with shorter grass to get the pegs to stand up."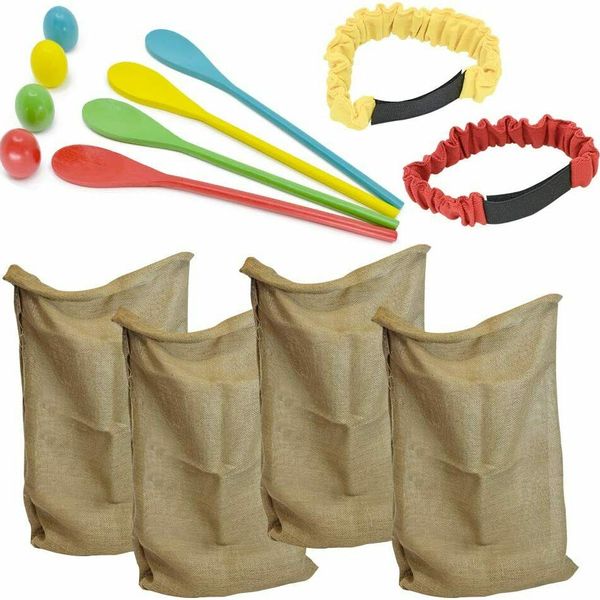 Dozens of reviewers specifically used these potato sacks for outdoor parties and describe them as great fun. One reviewer bought these for their kids who missed their school field day due to COVID and used them to recreate an "outdoor field day at our house" and says that the sacks "were super fun." Another reviewer bought them for an end-of-year school party and says, "It was a lot of fun and worth the money. I hope to use these products for years to come." Although several reviewers do attest to the durability of the burlap sacks — one says their kids are "very rough with all their toys and games," but these sacks have "lasted now for several weeks" — some say that the other accessories in this kit, like the straps used for the three-legged race, break easily. But the wooden spoons and faux eggs make for a nice Easter activity that can also be used year-round, according to one grandparent: "The grandkids have to have sack races every time they are over!"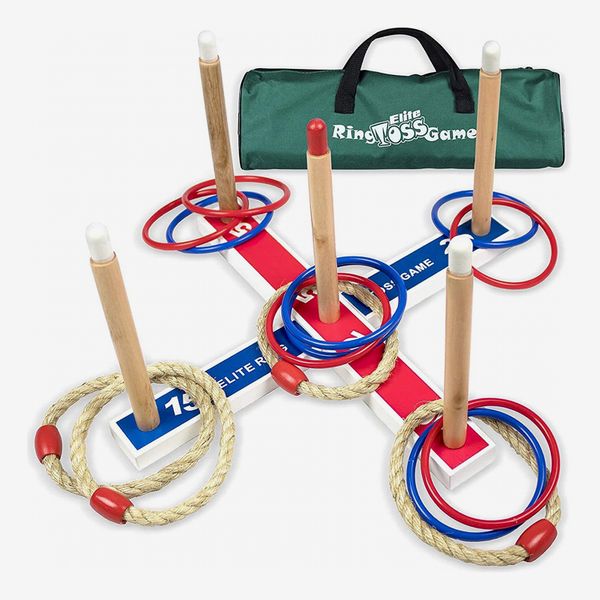 Reviewers appreciate that this ring toss comes with a mix of rope and plastic rings, along with movable pegs, making it an adjustable activity for players of various ages and abilities. One customer, who gifted this game to a family with young children, says "there are many ways to make it 'fair' for a variety of ages to play at the same time," noting that rings can be tossed from "various distances" and that the game itself holds up well to use. Another agrees that she, her husband, and her children all enjoy the game by changing "distance to change level of challenge. Sturdy as a wood product can be expected. Should survive my rambunctious children and outdoors well." Dozens of other customers vouch for the durability of this ring toss, including one whose brother has kept it in his backyard for a full year and says the color hasn't faded and "the wood has stayed in good condition. [The rings] are perfect size. Not too tiny where you're like, 'Wtf, I feel like I got misled and ripped off!' And they aren't oversized where you're like, 'Okay, this is embarrassing and making my yard look small,'" she adds.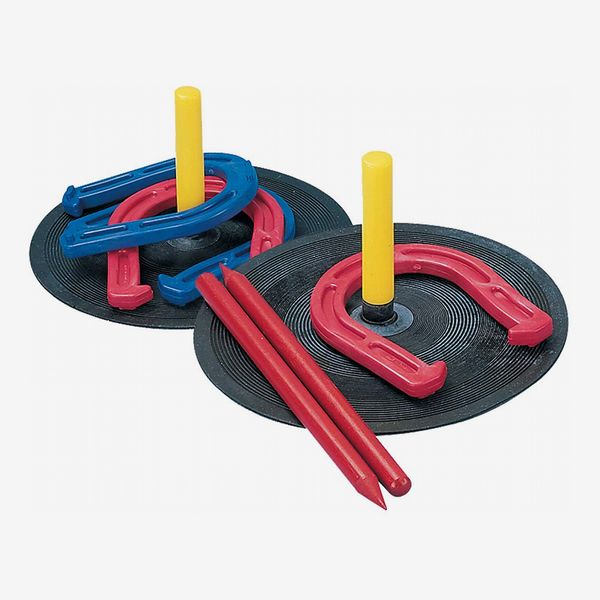 "This game is much safer than the original, which comes with iron shoes and an iron base," writes one reviewer, and that element of safety is why so many parents purchased this rubber horseshoe set for kids. One reviewer, who likes to play horseshoes with their family, says the traditional adult set is "just too heavy" for the kids, so they "bought this set so that my children could play. They love it! These rubber horseshoes have a good weight to them, not super-light like the other cheap plastic ones." Many other reviewers note that this set is a good alternative to plastic horseshoes, because these rubber shoes "are heavy enough to not get carried away by the wind, but are not too heavy for young children." If kids aren't a concern, another reviewer points out that the material protects dogs and possessions as well. Among the dozens of customers who vouch for the quality of this set, many reviewers also point out the reasonable price. One reviewer uses them outside during family gatherings, and says they are a "good and stable product. Totally worth the price, and quality is great."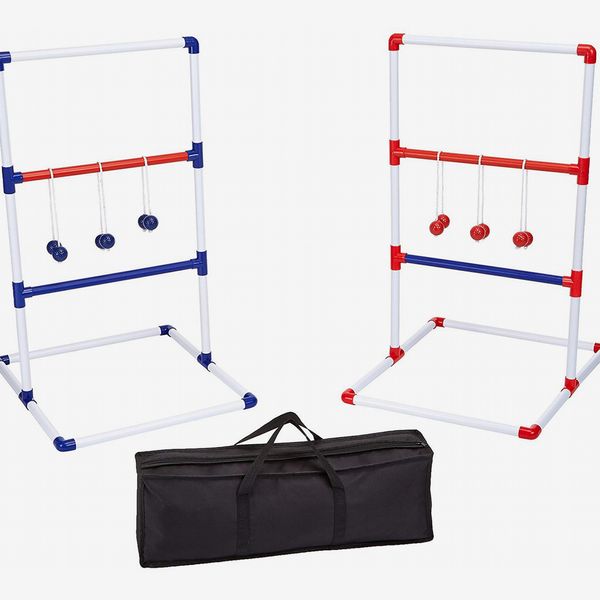 "As usual, AmazonBasics has created a great value ladder ball set," writes one satisfied reviewer, who explains, "I got a cheap set and it broke almost immediately with the first play. This set while not expensive has thicker PVC tubes and will last longer." And other reviewers agree that this set is easy to assemble, yet sturdy. "So easy to put together — we didn't even use the directions," one reviewer writes. Others have also found that this is a game suitable for players for all ages. One reports it being a hit in a "senior independent retirement community," and another says "we bought for the after school program and the kids love it!" Another writes, "I bought this for a family BBQ and was not disappointed. The set was easy to put together, and once assembled, was very sturdy. I was surprised, the bolas were actual golf balls."
The Strategist is designed to surface the most useful, expert recommendations for things to buy across the vast e-commerce landscape. Some of our latest conquests include the best women's jeans, rolling luggage, pillows for side sleepers, ultra-flattering pants, and bath towels. We update links when possible, but note that deals can expire and all prices are subject to change.
Every editorial product is independently selected. If you buy something through our links, New York may earn an affiliate commission.